Exclusive premiere: Spacecamp "Miko D.T.B."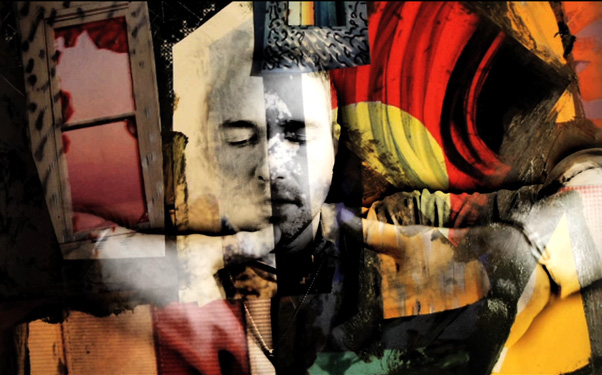 Posted by Brandon Kim on
Spacecamp's very first music video is a heavy dose of impressive superimposition mixed with collage, claymation, stop motion, and oil painting. Director Philip Di Fiore gives the piece a timeless feeling combining a love for old Blue Note record covers with magnificent manipulations of light and perspective.
The song, which comes from the band's debut EP, "Alibi," is equally as enthralling. Lyrically, it tells the tale of a boat captain who is running guns and narcotics from Brazil back to the States via the Florida Keys.
Nothing off about that, but then our boat captain is betrayed by his lover. "His boat is boarded by a group of very good soccer players," the band explains. "They carry golden revolvers and fight valiantly for their heroine (not the drug), Sister Crystalline, also the Captain's fraudulent bed-mate."
Who would guess that a gal named Sister Crystalline wouldn't be on the up and up? An extremely smooth bass groove seems to level things out, but the plot is further complicated, "by the fact that she is the leader of an ancient-mystic-shamanistic-psychotropic religious society." Spacecamp assures us that, "She probably means well, even though she behaved badly."
video player loading
.
.
.
Like "Miko D.T.B." the other songs on "Alibi," will leave you feeling like you just spent some quality time with The Police, The Clash, and The Talking Heads. Check out a full stream of the band's EP which released Nov. 22nd on Modern Records, here.
Want to see more Spacecamp? Let us know in the comments below or on Twitter or Facebook!