Exclusive premiere: Lou Reed & Metallica "The View," directed by Darren Aronofsky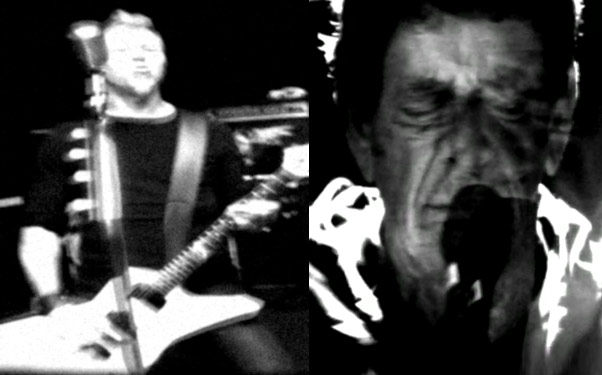 Posted by Brandon Kim on
Lou Reed and Metallica may at first seem to be a pairing at odds with what old fans of either New York's God of rock and roll, or The Black Album chart toppers would think prudent — until you watch these two colossal entities in the same room together, through the lens of director Darren Aronofsky.
If there was something incongruous about the idea, Aronofsky's menacing camera puts that to rest, and Reed's villainous monotone suddenly seems at home indicting lustful fancy over Metallica's huge riffs.
"The first time I heard 'The View' I was stunned," Aronofsky said. "I had never heard anything like it. Half was all Lou. The other half all Metallica. It was a marriage that on the surface made no sense, but the fusion changed the way I thought about both artists and morphed into something completely fresh and new. I couldn't stop listening to it. Lou's crushing lyrics, and the band's incredible licks."
video player loading
.
.
.
"I am very excited about working with Darren Aronofsky on our powerful video 'The View,'" Reed said in no uncertain terms. "I feel Darren understood the power and range of the emotions fueled by the fire of Metallica. His strength and spirit are on display in every frame and I think he has caught the anger, rage and anguish at the bottom of the soul of real rock."
Lou Reed & Metallica's album, "Lulu," took an incredibly meandering path from ideas to songs, to finished collaboration. Reed was originally inspired by German expressionist Frank Wedekind's theatricals "Earth Spirit" and "Pandora's Box," from 1895 and 1904, respectively. Known as the "Lulu" plays, they tell the tale of a teen-aged prostitute who leaves a trail of ex-husbands behind her in London's Whitechapel district, favorite haunt of Jack the Ripper. The plays were condemned in Wedekind's time as obscene — the kind of material with which Reed is intimately comfortable, lest we forget he also once distilled Leopold von Sacher-Masoch's masterwork (which gave us the word masochism) "Venus in Furs," into song.
Do you dig the video? Let us know your thoughts in the comments below, or on Facebook or Twitter.