Peter Jackson heads back to Hobbitown in new production diary video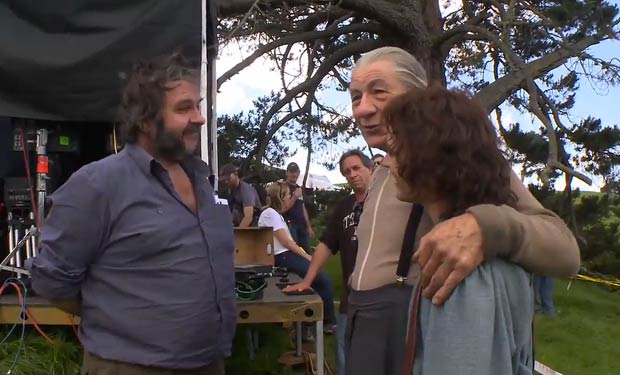 Posted by Terri Schwartz on
All you little boys and girls must have behaved very well in 2011, because Peter Jackson put together a very special gift for you for Christmas. In addition to the release of "The Hobbit" trailer, he has put together the fifth installment of his video production diary for our viewing pleasure.
This behind-the-scenes segment focuses on shooting on location in New Zealand, and — as the video underlines — all the effort that goes into moving a large set around a fairly large island. Needless to say, "The Hobbit" team is managing to do it with flying colors and, apparently, a whole lot of booze.
But the video has a couple special treats for those willing to watch all twelve minutes of its length. It caught Elijah Wood's first visit to Hobbiton since it's been rebuilt on camera, and it turned out to be a very emotional visit. Nothing quite highlights how much time has passed since "The Fellowship of the Ring" first hit theaters like Wood saying that he first came to set when he was 19, and now he is 30.
It's also nice to see motion-capture actor Andy Serkis doing double duty as second-unit director as well. Hopefully he isn't smoking too much of that pipe he's carrying around in front of his sons Louis and Sonny, who make a brief appearance in the video in their hobbit costumes.
And for those of you who didn't get enough dwarves, hobbits or Gandalf in the trailer, then this video should hit the spot. The production diary is jam-packed with shots of them moving around set both in and out of scenes, and it genuinely seems like the entire crew of the movie is having a great time filming it.
Those of you hoping to one day visit Hobbiton yourselves are in luck, too. In the video, Jackson explains that when they built the Shire set this time they used long-lasting materials so the set can stay standing even after filming on "The Hobbit" has finished. That's probably the greatest Christmas gift any of us received this year. Don't tell our families we said so.
Are you looking forward to "The Hobbit"? Tell us in the comments section below or on Facebook and Twitter.