We hope you got your priceless Orson Welles Oscar before it sold out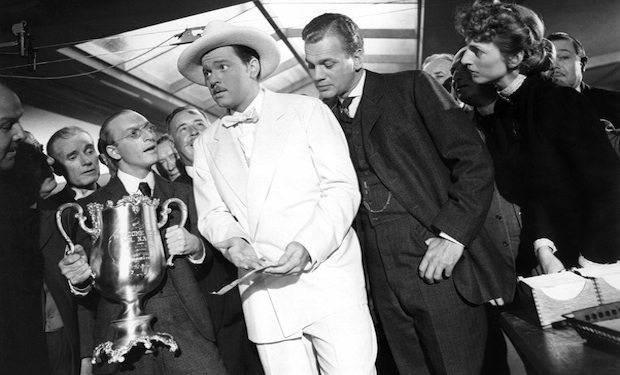 Posted by Matt Singer on
Someone's getting one hell of a surprise in their Christmas stocking this year.
As we told you last week, Orson Welles' one Academy Award, for the screenplay of 1941's "Citizen Kane," was put up for auction recently. If you were inordinately wealthy and a talentless hack, here was your own chance to have your very own Oscar. And not just any Oscar, but a piece of film history.
Well, we hope you got yours before it sold out: the Welles Oscar auction is over and one very lucky, very anonymous, and very very rich person scored the little gold man with a final bid of $861,542. According to TheWrap, the losing bidders included magician David Copperfield, who is apparently an avid collector of Welles memorabilia. Some magician! Someone was way better at making eight hundred grand disappear than he was. On a side note: with $860,000, you could make a reasonably good-looking movie. It might even win you an Oscar or two.
Just four years ago, the same Welles Oscar failed to meet a reserve price at auction, and didn't sell at all. So somebody's doing well in this bum economy. I have no idea who that might be, but here's what I hope he or she does with their award: tells no one about it, then dumps it in an enormous warehouse full of thousands of other collected knick-knacks, trinkets, and priceless works of art. Then when this person dies someday, on their death bed they say one word — "Oscar" — fueling an enormous hunt for the answer to this riddle.
What would YOU pay for your very own Oscar? Tell us in the comments below or write to us on Facebook and Twitter.