"Thor 2" star Natalie Portman reportedly upset Marvel ditched director Patty Jenkins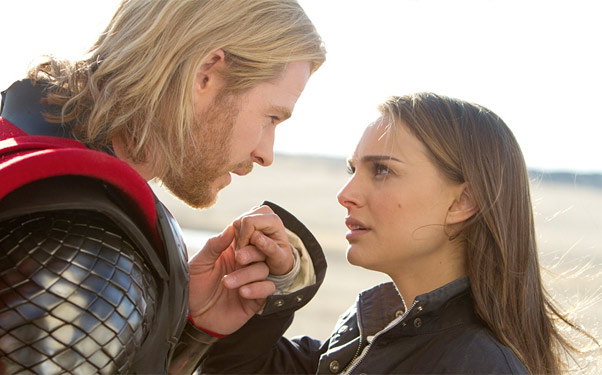 Posted by Terri Schwartz on
Marvel might have wanted to consult with Natalie Portman before they fired director Patty Jenkins off "Thor 2," because the film's leading lady is not too happy about it. While the departure was originally spun to be over "creative differences," insiders say that there might have been more to it than that. Portman found out after the fact, and was a bit peeved about the whole situation.
The Hollywood Reporter has spoken to sources close to Marvel who say that Portman was unhappy because she was a major supporter of bringing Jenkins on to the project originally. Apparently she had been reconsidering whether she even wants to move forward with acting over the next few years because she wants to spend more time with her son Aleph, but finding out that Jenkins was up for director gave her a renewed vigor in the project. Though it's been downplayed since the announcement of her position, Jenkins would have been the first female director to helm a tentpole superhero movie.
Portman is contractually obligated to stay on "Thor 2," and Marvel has been trying to make Jenkin's departure up to her ever since. THR is reporting that Marvel is having Portman involved in discussions about whom they should hire as a replacement.
Insiders close to Marvel are saying that Jenkins leaving "Thor 2" was more of a firing than a separation due to creative differences. One source says Marvel felt she shows "a lack of overall clarity in her choices" while another says she wasn't moving decisively enough towards getting the film ready for its November 2013 release date. THR points out that there isn't even a script in place for the project yet (Don Payne wrote one but Marvel is having it rewritten) so it's unclear how Jenkins could have been more decisive.
Another insider, this one close to Jenkins, says that maybe the "Monster" director was too explicit for her vision of the film. Jenkins apparently didn't expect to be hired in the first place, but guesses it was Portman's enthusiasm for her that won executives over. Once they started hiring writers for the rewrite, though, they might have realized that they "really weren't comfortable" with having her on as director.
"Marvel had certain things they needed to achieve," says another source. "There were constraints on what she could do creatively."
The two directors currently being considered to replace Jenkins are Alan Taylor and David Minahan. Like Jenkins, they both have the majority of their experience in TV directing.
Were you surprised by Jenkins being kicked off "Thor 2"? Tell us in the comments section below or on Facebook and Twitter.