Call-In Commentary: Watch the "My Week with Marilyn" trailer with director Simon Curtis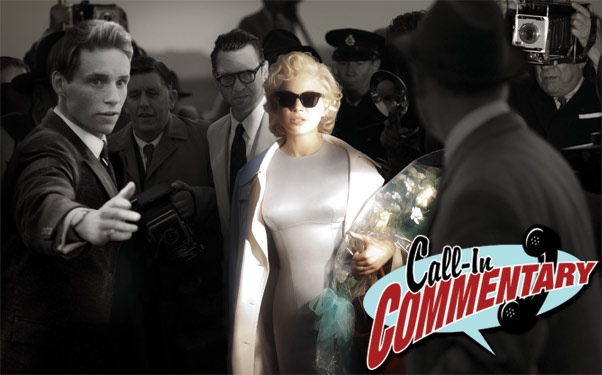 Posted by Brian Jacks on
If you're still upset that Michelle Williams' Oscar nominations for "Brokeback Mountain" and "Blue Valentine" didn't translate into gold statues, you may be finding solace with her performance in "My Week with Marilyn." In portraying 1950's bombshell Marilyn Monroe, the actress has found herself at the center of Academy Awards talk yet again.
The film centers around Monroe's first and only trip to England while shooting "The Prince and the Showgirl," and her unexpected week-long whirlwind romance with a young assistant director named Colin Clark (played by Eddie Redmayne), from whose memoirs the movie is based. With a cast that includes Emma Watson (in her first post-"Potter" role), Kenneth Branagh, Toby Jones, Dominic Cooper and Judi Dench, "My Week with Marilyn" is generating considerable buzz as an intriguing look at celebrity culture in an age before TMZ.
To get a firsthand account of the movie, we turned to director Simon Curtis who agreed to participate in our "Call-In Commentary" series, where filmmakers provide audio narration to their trailer. In the video below, hear Curtis describe the stories behind his characters, how Michelle sang all her own music and more. "My Week with Marilyn" is currently in limited release.
video player loading
.
.
.
MORE CALL-IN COMMENTARIES:
– Watch the "Shame" trailer with writer-director Steve McQueen
– Watch the "American Reunion" trailer with writer-directors Jon Hurwitz and Hayden Schlossberg
– "Janie Jones" trailer with director David M. Rosenthal
– "Trespass" trailer with director Joel Schumacher
View all Call-In Commentaries…
Will you be checking out "My Week with Marilyn"? Let us know below or on Facebook or Twitter.