Is this the age of fanfiction films?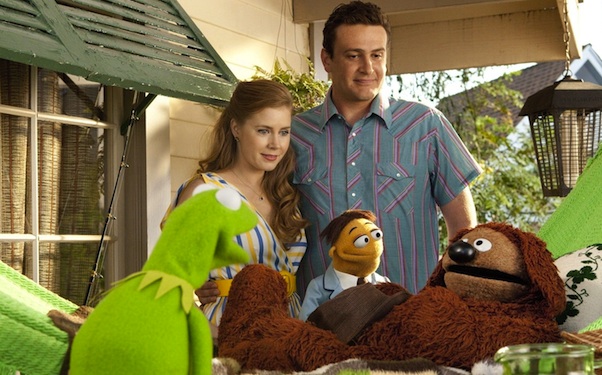 Posted by Matt Singer on
Last week, film critic Drew McWeeny wrote a really interesting piece at HitFix called "Muppets, Avengers, and Life In The Age Of Fanfiction." It was inspired by a conversation with his colleague, TV critic Alan Sepinwall, who described the new "Muppets" movie as "the greatest work of fanfiction [he'd] ever seen." That spurred McWeeny to write his piece on what he calls "the Age of Fanfiction."
"What's been truly bizarre, though, is the way the mainstream has slowly headed in the same direction, and without anyone noticing it, we seem to have handed over our entire industry to the creation of fanfiction on a corporate level, and at this point, I'm not sure how we're expecting the pendulum to ever swing back. I know people love to blame Spielberg and Lucas for creating the modern blockbuster age, but at least when they decided to pay tribute to their inspirations, they did so in interesting ways. Spielberg has talked about how his frustrations at hearing that only English filmmakers could direct James Bond movies led to the creation of Indiana Jones, and Lucas was working out his love of Flash Gordon when he created 'Star Wars.' Those are healthy ways to work through your love of something, and absolutely make sense as important pieces in the creative process. What's scary is how these days, filmmakers wouldn't bother with that last step, the part where you take your inspirations and run them through your own filter. Now, instead, we live in an age where we are simply doing the source material again and again and again, and where original creation seems to be almost frowned upon as a 'risk.'"
The other examples McWeeny cites besides "The Muppets" are J.J. Abrams' "Star Trek," "The Twilight Saga," and the upcoming movies based on "The Avengers" and the old horror soap "Dark Shadows." And there are a lot more examples he could have cited from just this year alone. Early in 2011 we got "The Green Hornet" which extrapolated the metatextual rivalry between the Green Hornet and Kato on the old TV series (where the Hornet was the star and the sidekick, played by a young Bruce Lee, got all the press) into the main character dynamic of the film. Later, there was "Fast Five" with an all-star cast reunion that could have been based on a "Fast & Furious" die-hard's fanfic about characters from every single previous entry joining forces to pull off one amazing heist. Two of the best blockbusters of the summer were prequels with classic what-were-they-like-before-we-met-them fanfic premises: "X-Men: First Class" and "Rise of the Planet of the Apes."
McWeeny writes about how modern filmmakers don't bother reimagining their childhood cultural addictions as new properties, and instead simply remake the the old properties over and over again. That's not entirely true, though. J.J. Abrams followed his "Star Trek" fanfiction film with "Super 8," where he took his love of early Steven Spielberg movies like "Close Encounters of the Third Kind" and "E.T." and reworked their themes and imagery into a pastiche. In true fanfilm wonk fashion, he even got Spielberg, his idol, to executive produce the film.
This isn't just about blockbusters, either. The Age of Fanfiction's begun to seep into lots of other genres that have nothing to do with rebooting old television shows or films. The core idea of fanfiction — of the author assuming creative control over their obsession — is a crucial theme of several of this year's most critically acclaimed movies. Three frontrunners for the Academy Award for Best Picture — "The Artist," "Midnight in Paris" and "Hugo" — are clear expressions of the Age of Fanfiction. In the latter two cases, you even have directorial surrogates onscreen (Owen Wilson for Woody Allen in "Midnight in Paris," Michael Stuhlbarg for Martin Scorsese in "Hugo"), who give the filmmakers the opportunity to indulge in the fantasy of interacting with that thing or person they love so dearly. The Artist" doesn't include an obvious stand-in for director Michel Hazanavicius (whose two previous movies about the old spy series "OSS 117" probably qualify as fanfiction films as well), but he does essentially rewrite history from a fan's perspective, giving — SPOILER! — a corrective happy ending to a silent film actor cruelly discarded in the transition to sound.
McWeeny thinks the Age of Fanfiction could give way to the Age of Invention, but for that to happen the Age of Fanfiction would have to falter at the box office. Then again, it makes you wonder: if this generation's movies are all reworkings of the previous generation's movies, what are the next generation's movies going to look like? Fanfiction about fanfiction? Nostalgia for nostalgia? Eventually, someone's going to need to create something new. Maybe that's when the Age of Invention will really begin.
What other recent movies qualify as "fanfiction films?" Tell us in the comments below or write to us on Facebook and Twitter.