Before the IFC.com premiere of Metallica & Lou Reed's Darren Aronofsky-directed video, here are 5 other Metallica collaborations we've enjoyed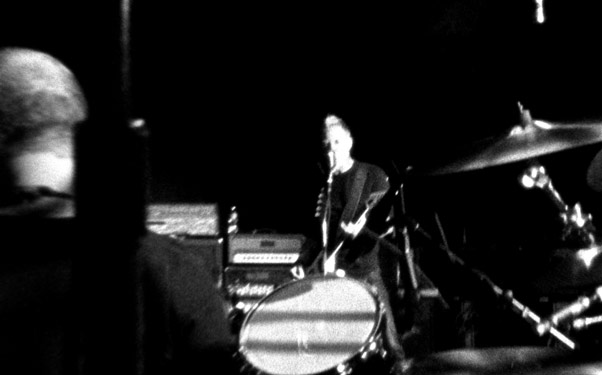 Posted by IFC on
It happened one fateful evening in New York back in 2009. Both Metallica and Lou Reed were on hand for the Rock and Roll Hall of Fame concerts, and after crossing paths back stage, realized they wanted to make more music together. "Lulu" is the resultant album that chance encounter yielded.
Reed asked Metallica, the exalted rulers of heavy metal, to help him provide a soundtrack to his theatrical piece of the same name. Last May, the two musical forces came together to create ten eclectic songs that sound like nothing you've heard from Metallica before.
But Metallica are no strangers to collaboration. In fact, the band — and its members — have teamed up with some other unlikely (and other, likely) collaborations in their past. Here's a look back at five Metallica musical pairings you may not have known about.
And don't forget to check back at 10am EST Saturday on IFC.com for the exclusive premiere of Metallica and Lou Reed's new music video "The View," directed by Darren Aronofsky.
---
Ja Rule and Metallica
Not sure what they were going for here, but in 2003, for the "Biker Boyz" soundtrack, Metallica ended up working with none other than Ja Rule. Two gravel-throated vocalists — on one track? It's even better than it sounds. If you ever wanted to hear a Metallica tune laden with all the boast, bragger, and swagger of a hip-hop track, then you should definitely check out this unlikely pairing.
Ja handles most of the vocals on the song, called "We Did It Again," and Hetfield does come in every once in a while on the track — mostly in the chorus, and towards the end of the chaotic track, when he intones, "Rip that smile right off your face."
---
Metallica and Trey Parker and Matt Stone
You may have recognized James' bad-ass vocals on the track "Hell Isn't Good" from the film "South Park: Bigger, Longer and Uncut" when you first saw the movie. It's kind of hard to not notice it's James Hetfield singing, and most Metallica fans have always assumed it was James.
But "South Park" fans long believed it was Trey Parker, merely paying homage to Hetfield who isn't credited for his vocal contributions. James admitted in a 2000 interview that it was him singing as a screaming Kenny plummets towards the fires of hell, meeting nefarious characters like Hitler and…uhm…Gandhi on his way down.
---
Metallica and Ray Davies
"See My Friends," Ray Davies' latest album, hit stores earlier this year and featured new studio collaborations, offering different takes on classic Kinks tunes. For "You Really Got Me," Davies enlisted the mighty chops of Metallica.
The result is a version of the well-known track that your parents wouldn't even recognize. Metallica turned it into a hard-rocking, fist-pumper of a metal anthem. We get Hetfield on vocals first, followed by Ray who comes in and just turns up the bad-ass level to 11. It's definitely a version made for lovers of riffs, as it features a dazzling solo and a really great intro.
On a side note, "See My Friends" also boasts collaborations with the pride of New Jersey — which, depending on who you ask, is Bruce Springsteen or Jon Bon Jovi, who are both featured on the album — along with The Pixies' Black Francis and The Smashing Pumpkins' Billy Corgan.
---
Metallica and Mercyful Fate
In 1993, Mercyful Fate released their imposing album "In The Shadows" which features a song called "Return of the Vampire 1993," which features the drumming of Metallica's Lars Ulrich.
It's pretty much one of the only times Lars has worked outside of Metallica, other than in film. Of course, the song rules because of King Diamond, one of heavy metal's best and most beloved vocalists.
---
Metallica and K'Naan
In 2009, Somali-Canadian hip hop artist K'Naan enlisted Metallica guitarist Kirk Hammett for the track "If Rap Gets Jealous."
The track appears on K'Naan's "Troubadour," and while you may not recognize Kirk's fancy finger work, please do enjoy the Eminem-style vocals of K'Naan.
---
Check back at 10am EST Saturday on IFC.com for the exclusive premiere of Metallica and Lou Reed's new music video "The View," directed by Darren Aronofsky.
Let us know about your favorite Metallica collaboration in the comments below, or on Facebook or Twitter.