Les Claypool guest blog: Primus frontman on the glory of the Three Stooges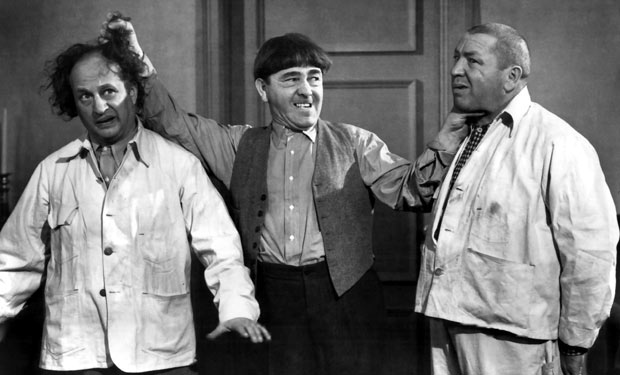 Posted by lclaypool on
With IFC airing our annual Three Stooges marathon beginning Saturday at 6/5c, we are fortunate enough to have the legendary singer/bassist of Primus, Les Claypool, to help us usher in the wacky trio. So without further ado, take it away Les…
So, I've been asked by the fine yet potentially confused folks down at IFC to write random pieces of ramblings for their online site. Why they would want the opinion of a reckless and somewhat lopsided finger wiggling bass wrangler such as myself is speculative. I did an interview recently with an inquisitive reporter from said entity and though technology did it's best to turn my profound words into gibberish, (our Skype connection from Santiago Chile made my voice sound like one of the Cylons from Battlestar Galactica—era 1978) the interview deciphered into a fine pile of Claypoolesque one-liners that reflect my unique if not warbled perspective of classic film. It must have impressed somebody because they have offered me huge piles of cash to sit in my favorite chair and type glorious nonsense onto my fairly outdated Macbook. Well, they offered me piles of something. So, here we go.
What the hell am I supposed to write about? Yes, I'm an opinionated bastard that is substantially barnacled by years in the brackish waters of the entertainment industry. Thus far in my life I've made what is known in the music world as a "shitload" of records and have toured the world several times making wretched racket for the masses. I've penned a novel. And, above all, I wrote, directed, acted in and have been thoroughly sodomized by the process of making, a film.
"So, where to start?" I say to myself as I scratch my whiskered chin. I flip on IFC this fine Saturday morning and "glory behold", The Three Stooges! IFC is undoubtedly the greatest channel on the planet at this moment in time. Moe just ate a pancake that he inadvertently covered with glue instead of syrup and now Larry is pouring boiling water over his face to free his stuck lips. This stuff is obviously not based on reality because reality TV has never been this clever. Curly Howard could quite possibly be one of the greatest prophets of our time. "Drop the vernacular!" the judge says. Curly responds, looking down at the hat he is clutching in his hand, "It's a doy-bee!" (the Curly-esque pronunciation of "Derby"). Genius.
This all may not mean much to most, especially my wife who looks at the screen like someone who his looking into the bottom of a half-full kitchen trash compactor noting not so much the quality of the content as much as the condensed quantity and randomness of it all (less the aroma of course). To me, the Stooges help jog portions of my memory. Like a CPU scanning a fragmented hard drive, I remember my Step Dad's favorite quotes (he has always been a true Stooges aficionado). I myself have been known to inflict these gems upon my children since they were tykes. Living in the country it is not uncommon to see deer grazing about the hills and fields on a daily basis. "Look Daddy, a deer!" and with those sightings, myself being the chipper Ol' Daddo that I am, I ask, "Does the deer have a little doe?", knowing full well that my kids after years of prior inquiries, will respond, "Yeah, two bucks!". Actually, they usually screw it up not having the precise, well-honed timing and comic genius of Moe, Larry, Curly and sometimes Shemp. Joe wasn't horrible but Curly-Joe? Fuck that guy.
I actually had someone once debate me that Shemp was better than Curly. Moron. I write "someone" as if there is any possibility that it could have been anything but a male. Women take to the Stooges like a salmon takes to sand paper. I always thought that if I ever met a woman that liked the Stooges I'd lick her in all the right places and marry her up immediately. Unfortunately the woman I chose, or chose me depending on who you talk to, is not a Stooges fan. Though she does hold the rare card of being one of the few females that actually listened to and enjoyed RUSH in high school, the glory of the "three later-day-wise-men" elude her. Funny thing, RUSH and The Three Stooges = no chicks. Is it a coincidence that RUSH used to start their shows with the opening theme song from those old Stooges shorts? Ah, the profoundness of it all.
For me film represents slices of time. Not just in the sense that a contemporary piece reflects the fashion, technology and viewpoint of the day but also the notion of what you as an individual may have been doing and where you were in life when you first experienced or discovered that bit of entertainment. When I watch the Stooges a huge warm rush of my past comes over me. I see my Stepfather, Buckhorn beer can in hand, cackling away at and finishing the sentences of Curly. I see myself sitting at the dining room table (strategically placed for full view of the TV) as I plodded through my homework while keeping one eye on the boys and their search for the "Rooten' Tooten' Diamond". I see my high school buddy Brian Kehoe spinning around the dirty, beer bottle littered floor pretending to be Curly to impress the girls. Ironically it actually worked for him. Glory days indeed.
I read the Stooge's biography years ago and it is a bittersweet tale. They had their balls suspended over the campfire by the critics. I read how Curly, feeling unattractive to women because of his self inflicted baldness, used to try to booze and gorge his woes away to the point of extreme ill health. For decades they were deceived by their film company into believing they were worth less than they were, subsequently being screwed out of unknown sums of big cash, doubtfully receiving much in the way of residuals as their faces appeared in syndication for decades. But, like most of what we see, being an audience not privy to the private drama, The Three Stooges is a magical, campy, slapstick slab of ridiculousness that has for generations helped us to escape what can sometimes be the doldrums of daily life, even if it is just afternoon homework.
The days of the shorts before the film in our local cinema is long gone, replaced by endless previews, but entities like IFC have the foresight to show these wondrous jewels so that we, those who remember the glory, can call our children into the room and away from their computers, video games and iPads to demand that they view, much to their overt dismay, black and white footage of a comedy team that sewed the seeds of influence for many a respected contemporary comic (if not at least the guys from Jackass). I once heard some ungodly statistic of the number of children who were injured in the heyday of the Three Stooges by replicating of some of their violent comedic antics. I'll tell you what, I'd much rather have my kids poke a random eye or be bonked on the head by an ironing board or hot poker than have the wretched social scaring of resembling, imitating or being influenced in anyway by the antics of the likes of Snooki or the Situation.
But then again, I'm just a bass player.