Ian Palmer and James Quinn McDonagh won't "Knuckle" under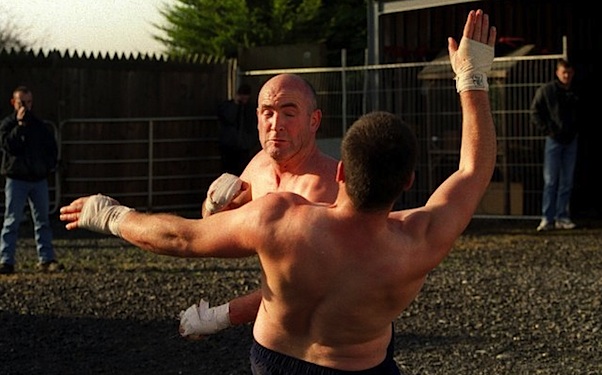 Posted by Matt Singer on
I've heard of fights at weddings, but this is ridiculous.
Filmmaker Ian Palmer was hired to shoot a wedding between members of what are called Irish Traveller clans, nomadic families notorious for their longstanding feuds with other Traveller clans. Palmer shot the wedding and was quickly invited to film a bare knuckle boxing match between two Travellers. Instantly, he was hooked on the endless drama and the explosive fights, and he spent the next decade recording the ups and downs of the Quinn McDonaghs, particularly their biggest and best fighter, James.
At Fantastic Fest 2011, I got the chance to talk with Palmer and Quinn McDonagh about their film and the fascinating world it explores. We touched on the logistics of spending more than ten years shooting a movie, and how the finished doc has affected the easily disturbed relationships between the clans. And thankfully, no one punched me in the face.
Ian, in the film we see how you found James and his family, but not how you decided to make a movie about them. How did that happen?
Ian Palmer: I stepped over the threshold into a world that most outsiders had never gotten to really be inside. I wanted to make a film about it very quickly. I met James and his brother at a wedding. The bride's family had invited me. I remember afterwards going back to that side of the family that I had met before and asking them "Do you think the guys would ever let me make a film about this?" And they said, "No way. It'll never happen." But I figured there was no harm in asking. This was after I'd filmed the first fight. And even though they'd let me film the fight, it didn't mean they were going to let me make a film. Despite what the family had said, James was quite open. We had a good relationship.
James Quinn McDonagh: We built up a lot of trust very early on.
IP: And that was key, for James and his immediate family to accept me inside. If James had said no, it wouldn't have worked.
So James, why did you feel like you could trust Ian?
JQM: He's a character himself; a genuine character. He put himself across very well, he made his intentions very clear early on. He's not like some of the guys that would do something for a year and then go and do something else and not let you on about it. He kept me updated, he kept telling me the truth. Good and bad, whatever happened, we were all part of it together. One day he said, "James, I think I want to do something about this, what do you think?" I said, "Do what you've got to do, but don't do it injustice, don't do it wrong, and let me have a look at the final piece and see what I think, and give me some sort of little say on it." He showed me the final piece, and I think out of the whole 96 minutes, there was maximum one minute that I didn't like.
IP: It wasn't even that. It was one shot. It was actually a total surprise to me, because I thought it relatively innocuous.
JQM: It was one shot, which is irrelevant now to talk about, but this one shot of me, Michael, and Paddy [James' brothers], we wanted to change. Everything else we were beautiful with. We're very happy with the movie itself, very happy with Ian, very happy that he trusts us and we can trust him, and long may it continue.
Over more than a decade of shooting, how much footage did you accumulate?
IP: I maybe have 200 hours. And I had a lot of acquired of footage, the video tapes the clans send to each other, wedding footage, and some photographs too. There was a big collection of stuff to wade through when I eventually tried to come to grips with it.
I'd never had a deadline for this film. If I had that I would have finished the film inside of two or three years. But I always wanted to have a longitudinal study, as they say. I'd almost had a commission for it after the first year, in 1998. But that didn't come to anything. The TV crowd I was with wanted me to push it in a different direction and I wanted an open-ended approach; I didn't want to dictate things, and I didn't want many formal interviews. It wasn't going to be that kind of a process; it was going to be a journey. It was real people, going on a journey, and I was going along for the ride. It became a very long ride because I really had no deadline.
And that's one of the things that makes the film so interesting. But how did you know, then, when to finally stop?
IP: I'd stopped at various times. As the film describes at one point, six or seven years in I said, "I've had enough. I'm not getting anywhere with this. I'm just some guy with a camera having a thrill." But the time passed and a call came through ten years after I started. Michael [Quinn McDonagh, James' brother] jumped back onboard the fighting game, challenging his cousin in England to sort out what he'd failed to do many years before. That, for me, was always going to round out a story of a particular journey by three brothers in their fighting lives. And that was always going to the way the whole world was going to be told.
Ian, you mentioned those videos that the families would send one another to provoke fights. They're are amazing. They're almost like battle raps.
JQM: The tauntings.
"The tauntings," yeah.
JQM: It was the thing of the day. When technology started to come into the hands of Travellers, social websites and social networks like Facebook started coming online, people started getting their hands on digital cameras and camera phones, instead of just ringing up a guy or sending a third party, Travellers would go on video and taunt. That all started after I had my fight with Patrick Nevin, when I stupidly said no Nevin would ever beat me. They started sending stuff back on the strength of that one, and in turn, we wanted to get a message across. They had the last word; we wanted to say something back, so we opened our mouths in front of a tape and we started bullshitting. In turn, they come back. It was like a ten part miniseries. It went on from that and it's a continuing trend up until this day. Only two weeks ago, the Joyces and Nevins are on their tenth challenge on DVDs. Five on each side at the moment.
It seems like YouTube would only encourage this stuff.
JQM: They're all on YouTube.
And how has the movie affected that back and forth?
JQM: I'm on speaking terms with some of the Joyces and some of the Nevins. The feedback I've gotten has been nothing but positive. Everyone knows they made mistakes, everyone holds their hands up, and in general everyone's saying it's a brilliant, brilliant movie. Everyone loves it. It's gone wild in Ireland and England. Every Traveller I know has got a copy.
Does that surprise you though? In the movie, we see how the littlest insult can set off a new feud. I'd think there must have been something in there that someone took offense to.
IP: The film is part of that conversation now. But because there is a story arc, rounding out this relationship between James' brothers and the people they were fighting, it does something different than the normal tapes that are going back and forth. It does show with James' life, someone who's gone from being the lead player in the fighting to the lead player in —
JQM: — peace negotiations.
IP:Well not so much peace negotiations. It shows a process that someone can go through in their life, and having a consciousness about it. I wouldn't assume to say the film would have any role to play in family thinking in the future.
JQM: It's not going to fuel it. The feud's been going on forty, fifty years going back to I don't even remember how or why. "Knuckle"'s not going to make it any worse, and it's not going to help it. "Knuckle" is just there to tell the general public and the audience of what's going in this private life of the Traveller community of bare knuckle fighting.
Ian, tell me what it's like to film one of those fights. It can't be an easy thing to shoot.
IP: You'd be surprised how it feels like you have a shield in front of you when you're looking through a camera lens. My technique was always to get in as close as possible.
JQM: He was really up in your hole.
IP: That was always my approach. I just wanted you to feel it. I'd come away with specks of blood splattered on the lens. It wasn't that I enjoyed fighting in that particular way. But I never found it off-putting. It's a technical challenge. You're there, you're trying to keep it in focus, there's a crowd, you're trying to do a job. It's probably the same as the guy on D-Day shooting photographs. He wasn't thinking about danger.
So James while you're fighting, you're cognizant of things like Ian and his camera getting in your face?
JQM: Me, when I'm fighting, there's only one voice I hear — and I don't even want to hear it — and that's the referee. Everything else around me is not there. Just the guy in front of me. I don't feel, see, or hear [Ian]. I just focus on what I'm doing, and that's how I can concentrate and do what I do best.
Now that you're primarily training fighters instead of fighting yourself, what are your main pieces of advice to your students?
JQM: It's all about the second plan, the Plan B. I always went into a fight with a Plan A and a Plan B. If one's not working, switch to the other one. Thankfully I've never needed Plan B.
[laughs] If they make a fiction version of your life, who do you want to play you?
JQM: Just because he's a big guy with a bald head, and we've got the exact same date of birth: Vin Diesel.
Vin Diesel, I can see that. I don't know if he could do your accent though.
JQM: You never know, he's an actor. Or I could just play myself.
"Knuckle" opens this Friday. If you see it, tell us what you think in the comments below or on Facebook and Twitter.