Indiana Jones and the razor-sharp criticism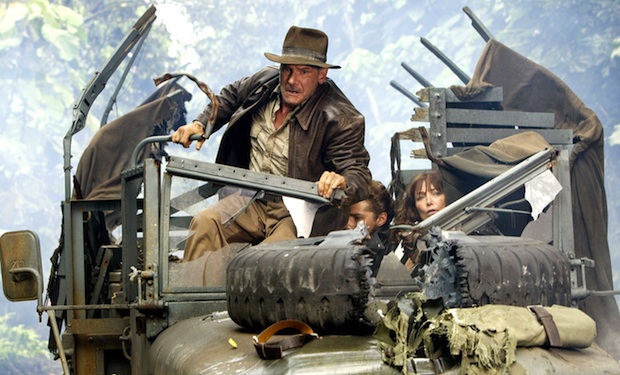 Posted by Matt Singer on
"The Adventures of Tintin" might not be setting the world on fire at the box office, but it should. In a lot of ways, the film is the best "Indiana Jones" sequel Steven Spielberg ever made. It's great globetrotting fun, with dazzling action setpieces, iconic visuals, and charming supporting characters. The story isn't going to set the world on fire, but "Tintin" is still a hell of a lot more entertaining than 2008's "Indiana Jones and the Kingdom of the Crystal Skull," a movie so miscalculated it inspired a new variation on "jumping the shark." Now the moment when franchises officially run out of good ideas, they "nuke the fridge."
Perhaps that makes this new video review from Red Letter Media — the guys who brilliantly and savagely skewered the entire "Star Wars" prequel trilogy — inevitable, but it doesn't make it any less welcome. As usual, angry old man, Pizza Rolls enthusiast, and wife-murder-joke-maker Mr. Plinkett's criticism is silly, funny, and full of razor-sharp observations.
It's also surprisingly even-handed. Plinkett (yes, I know he's a character and not a real person, but whatever) avoids the easy targets — there's hardly a mention of Mutt Williams swinging through the trees with monkeys a la Tarzan — and he even goes out of his way to praise the parts of "Crystal Skull" that work, including theperformance of Shia LaBeouf as Mutt and the underrated motorcycle and car chase scene around the campus of Marshall University. Plinkett doesn't even make fun of the nuke the fridge moment; he actually praises that scene for its clever comedy and striking visuals. Rightfully so; I always thought the fridge nuke got a bum rap; it's way better than any of the chases or suspense scenes in the film's CGI-laden second half. But I guess crystal skulling the kingdom doesn't have the same ring as nuking the fridge. Here's the video, in two lengthy parts.
Editor's Note: The embed function on the videos appear to be broken at this time. If they are still down, please visit Red Letter Media here to watch the videos in full.
The videos are silly, and there are still too many moments of misogynistic humor for my taste, but don't let those fool you: the Red Letter Media guys are no dopes. Their examination of the Indiana Jones character is right on the money. As much as we love the old movies, the appeal of "Raiders of the Lost Ark" or "Indiana Jones and the Temple of Doom" isn't the character of Indiana jones; it's the idea of being Indiana Jones that's appealing. And an older Indiana Jones who has trouble running down stairs and reconnects with an old flame isn't as appealing a character for vicarious thrills. If they were going to introduce Indiana Jones' son as a possible torchbearer for the future of the franchise, they might as well have just cast him as a full-on Indiana Jones Jr. Give him the whip, let him wear the hat, and call him anything but Mutt Williams. And, no, it doesn't make it any better that Indiana was named after a dog.
That's why "Tintin" is a better movie than "Kingdom of the Crystal Skull" even if it's made with the kind of cartoonish CGI that marred "Indy IV." Admittedly Tintin is not as cool a hero as Indy in his prime. He doesn't have the whip or the hat, and he doesn't have much of a love life. Like Indy, though, Tintin's fearless, clever, and he has a job that seemingly doesn't care if he spends weeks or months away from the office in search of adventure. Unlike Indy, he's made entirely in a computer, which means he never has to worry about getting older. That may be the most appealling part of all.
What's your favorite "Indiana Jones" sequel? Tell us in the comments below or write to us on Facebook and Twitter.