Jeremy Renner and Gemma Arterton are armed against evil in "Hansel & Gretel: Witch Hunters" still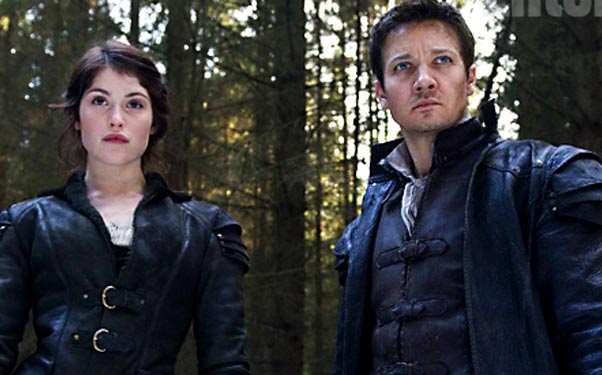 Posted by Terri Schwartz on
The first image released from "Hansel & Gretel: Witch Hunters" is out to prove that this isn't your average fairy tale film. The flick is a sequel of sorts to the classic story about the two children that ends with them having to kill a witch who is trying to eat them. Turns out that that experience royally messed up Hansel and Gretel, and now as adults they've decided to make a career out of being witch killers for hire.
Clothed in leather and holding some heavy machinery, the Entertainment Weekly-exclusive "Hansel & Gretel: Witch Hunters" still shows that killing witches is no laughing matter. And while the film might have some elements of levity and humor, its stars Gemma Arterton and Jeremy Renner have said that the movie is really dark and gritty as well. In fact, Arterton went as far as to compare the direction style of the movie to a Quentin Tarantino film.
"They had to murder somebody when they are kids! So it's all about being tough," Arterton explained. "Jeremy and I found within the script moments where we showed the vulnerable side of them. Often in action movies, people are scared to put that in. I think it was important. Just a couple moments, tender moments, when the guard drops, then you understand."
Renner spoke to MTV News recently and agreed with Arterton's sentiments. He said that it was a combination of her involvement and the chance to do something outside of his typical genre that drew him in.
"It's in a wonderful fairy tale world that's a bit gritty, a bit fun. It should be a good ride," he said. "It's one of those movies that I wanted to do because of Gemma and because it was a fantasy, which is lighter fare than the other movies I've done, and I thought it would be fun to be a part of that world."
Are you intrigued by "Hansel & Gretel: Witch Hunters"? Tell us in the comments section below or on Facebook and Twitter.