Jaws and the changing face of movie theme parks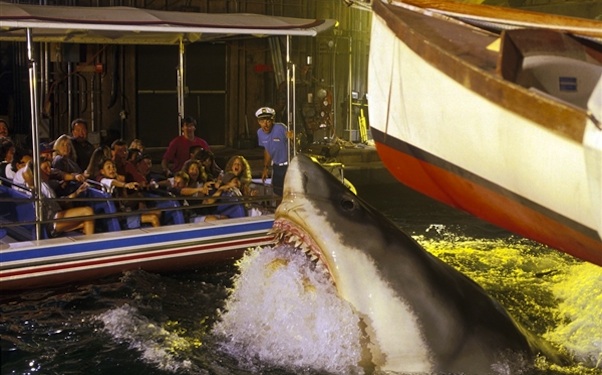 Posted by Matt Singer on
Just when you thought it was safe to go back in the water…
…it kind of was.
As first reported by the Orlando Sentinel, Universal Studios Florida will close their ride based on Steven Spielberg's classic horror movie "Jaws" by January 2012. The "Jaws" ride was one of the original attractions when Universal Studios first opened in Orlando in 1990; when it shuts down next month, it leaves "E.T. Adventure," "Universal's Horror Make-Up Show" and "Lucy: A Tribute" as the last remaining vestiges of the original park's lineup.
"'Jaws' has been an amazing attraction and an important part of our history," Universal spokesman Tom Schroder told The Sentinel. "We know that 'Jaws' holds a special place in the hearts of our guests. But we always have to look to the future and dedicate ourselves to providing new, innovative entertainment experiences for our guests."
As a child of the 1980s, I do have plenty of fond memories riding on "Jaws." Wait, are they fond memories? Can you fondly remember getting traumatized for life? I was so terrified of "Jaws" as a kid that I purposefully sat in the middle of the boat so the shark would have to eat his way through several other people if he wanted to get to me. I rode "Jaws" for the last time three years ago, when my wife and I spent a day at Universal on our honeymoon, and this time I bravely offered to sit on the end of the row to protect my new bride (she was surprisingly nonplussed by my selfless gesture). On that cool November afternoon in 2008, Jaws was not quite as fearsome as I thought him to be at age 10. He looked a lot stiffer, his "attacks" seemed a bit less random, and the boat "captain" who lead our "tour" through "Amity" a bit more rehearsed. Sort of like this guy…
Now I could channel my desire to ensure future generations are as emotionally scarred as I was nostalgia and pretend like "Jaws" wasn't looking creaky around the edges, but it was. Truth be told, it probably was time for an upgrade. That plastic shark represented an analog artifact in an increasingly digital movie world.
This is a topic we once discussed in depth on our old podcast: how the changing face of movie-themed amusement parks like Universal Studios represents a clear signifier that the way movies are created and consumed has changed completely over the course of my lifetime. When Steven Spielberg made "Jaws" in 1974, the titular shark was a mechanical creature, and a really bad one at that; Spielberg famously shot around the fact that "Bruce the Shark" didn't work by keeping him off camera as long as he possibly could. Almost completely by accident, he wound up making one of the greatest suspense movies of all time. So when "Jaws" opened at Universal Florida in 1990, it was cool to get menaced by a big-ass animatronic shark because that was sort of the same technology used to menace Roy Scheider and Richard Dreyfuss (appropriately, according to the ride's Wikipedia page, the original "Jaws" ride was plagued with almost as many technical problems as the first Bruce and had to be shut down for more than a year while the bugs were worked out).
That was one of the things that was so great about old school Universal: they could get pretty close to the real (fake) thing. A lot of the original Universal attractions were about taking you behind-the-scenes and revealing the secrets of movie and TV making. There was a "Murder She Wrote Mystery Theater" about foley work and sound effects. At "Alfred Hitchcock: The Art of Making Movies," employees taught the tourists how Hitch shot the crashing carousel at the end of "Strangers on a Train." Just look at how much production info was tossed out at the audience during the introduction of the "Ghostbusters Spooktacular," which recreated the climactic battle with Gozer on an impressively accurate replica of the Central Park West rooftop.
Okay, so the show is incredibly hokey. But it really was a simpler time, not only in terms of how films were made, but how they were understood to be made. The "Ghostbusters Spooktacular" is pre-DVD and pre-the widespread proliferation of making-of special features. In 2011, you don't need to go to Universal Studios to find out how "Ghostbusters" was made. Twenty years ago, you kind of did. Even if you wanted to go to a theme park to watch modern moviemaking in action in 2011, what would they show you? The hard drive that processed the Transformers? Green screen pingpong balls from Sam Worthington's face? "Okay everyone, gather around! Now I'm going to record Gary's movements in this mo-cap suit. And I'll just feed all this data into a computer and we'll be able to see the finished effect in… 12 to 18 months! Can everyone extend their vacations until then? Super!"
Analog moviemaking left behind all kinds of wonderful detritus that could be used to litter Universal Studios. Back in the day, the park featured a whole "Boneyard" full of old props for guests to ogle. Today, the Boneyard is gone, replaced by a rollercoaster called "Hollywood Rip Ride Rockit." There's no behind-the-scenes info to reveal because there are no scenes to go behind; it's just a rollercoaster. It's not even tied to any particular film.
"Jaws" really was a relic. We've got CGI sharks now, and CGI-based movie rides like "The Simpsons Ride" and "Shrek 4-D." The next attraction to open in Florida? A "Despicable Me" 3D movie. I don't think this change is despicable; it's just progress, and a company keeping up with its customers' tastes and attitudes. But even if I understand it, that doesn't mean I won't miss the good old days. Rest in peace, Bruce. You scared the shit out of me.
What's your favorite ride at Universal Studios? Tell us in the comments below or write to Facebook and Twitter.