Indian newspaper claims extras were paid to pose as Tom Cruise fans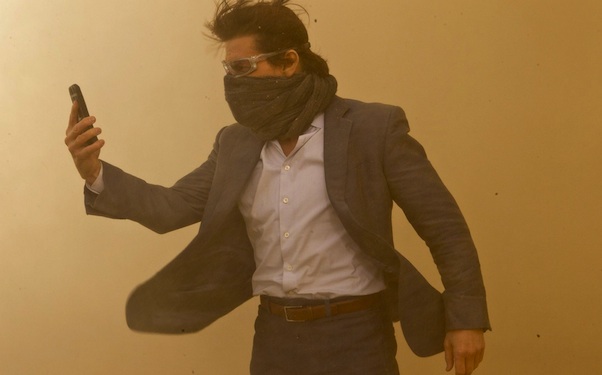 Posted by Matt Singer on
This is easily the strangest story of the week. Strangest, but not impossible, apparently.
Indian newspaper Firstpost published a story Sunday called "Tom Kaun? Junior artists paid Rs 150 to play screaming fans of Tom Cruise at airport!" The gist? That the 200 people who showed up at Mumbai Airport to greet Tom Cruise as he arrived to promote his new movie, "Mission: Impossible – Ghost Protocol" weren't actually Cruise fans, but rather extras who'd been given the mission — which they chose to accept, naturally — to throng up and cheer like crazy for the superstar at the rate of roughly $3 a head. This is a quote from one of the alleged extras:
"Tom Kaun? I don't know who he is or what he does. We were told to come here by 1pm today and wait for a foreign VIP to come out of the airport gate and scream and shout when he came. None of us know who Tom is. There was a buffet lunch also for us and we were paid Rs 150 for this job today. We do this for television shows and other such events where crowds are required,"
Paramount has already dismissed the story, telling The Huffington Post in a statement that "Tom Cruise is a massive star and attracts huge throngs of fans as he travels the world… the only people paid were performers who danced outside the venue. The idea that fans were paid to cheer is completely ludicrous and entirely false."
Okay, so there either were or were not people paid to scream at Tom Cruise. It's "RashoTom!" Maybe this is what the Ghost Protocol in this new "Mission:Impossible" is all about: it's some kind of IMF plan to secretly pay people to go nuts when you show up somewhere as a diversionary tactic. And then this story could be an ingenious viral marketing plant by the studio! No, I haven't been drinking. Not in the last hour or so anyway, why?
By the way, I love the idea of hiring people to cheer for you when you show up somewhere, whether it's true in this case or not. At the rate of three bucks a pop, I would totally plunk down some change to get mobbed at an airport. My ego could totally use the boost.
Who do you believe? Firstpost or Paramount? Tell us in the comments below or write to us on Facebook and Twitter.