A handy guide to the confusing world of IMAX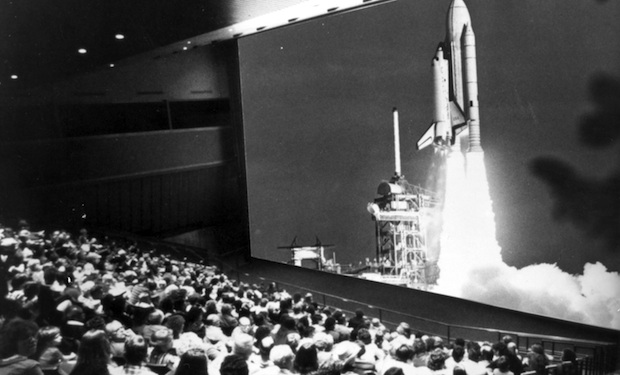 Posted by Matt Singer on
Everyone is talking about the new "Mission: Impossible" sequel "Ghost Protocol" and they're all saying the same thing: you have to see it in IMAX. Director Brad Bird shot approximately 30 minutes of the film with IMAX cameras, and the results are said to be stunning. I'm not surprised; I remember seeing "The Dark Knight" in IMAX and literally gasping at the sight of those mammoth flyby images of Gotham City.
So if you're like me, you're probably dying to see the film, but there's one big problem: where to find an IMAX theater? I live in Brooklyn; the closest true IMAX screen is in Manhattan at Lincoln Square, about an hour's subway ride away. There are other, closer theaters that offer what's called "IMAX Digital," but that's not as good: those screens feature bigger picture and sound than a standard multiplex auditorium, but they're still markedly smaller than the real IMAX experience. This image from the Wharton School of Business makes it very easy to see the difference between IMAX or IMAX Digital
As you can see, it's important to know before you go, particularly because there's often no price difference between IMAX and IMAX Digital. In New York City, for example, a "Mission: Impossible – Ghost Protocol" ticket at the true IMAX theater at Lincoln Square is $19 — plus a $2 fee if you buy it in advance, like I just did. A ticket at one of the IMAX Digital screens in Manhattan will set you back either $18 or $19 depending on the location (for curious New Yorkers: the AMC 34th Street and AMC Empire on 42nd are a buck cheaper than the rest). In other words, you might pay almost the exact same price for a drastically different IMAX. No wonder some dissatisfied customers have started calling IMAX Digital "LieMAX."
That's why if you're unsure, I recommend you head over to /Film, where Peter Sciretta put together a very useful piece about IMAX and IMAX Digital. It explains in greater detail the difference between the two formats and the history of IMAX's 70mm film stock, but the real prize is on the article's second page: a full list of all the real IMAX theaters in America. There's even a link to a similar list of international IMAX venues for readers overseas.
Go take a look, and then seek out those theaters. Get your money's worth. It might be hard, but hopefully it won't be impossible.
How far is the closest real IMAX theater to you? Tell us in the comments below or write to us Facebook and Twitter.