"Horror Express" is old school spooky fun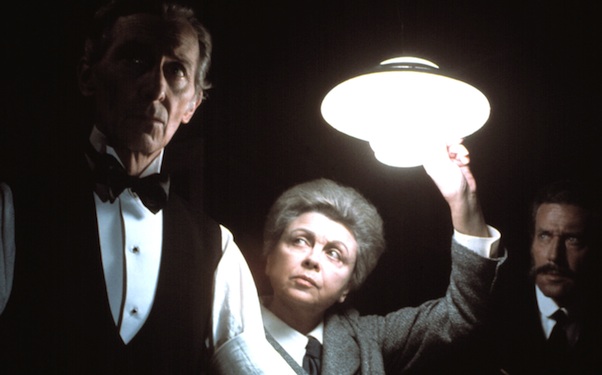 Posted by Matt Singer on
26 minutes and 30 seconds.
That's the exact moment I fell in love with "Horror Express," the 1972 horror film that's new this week on Blu-ray. That's when Peter Cushing finally confronts Christopher Lee about the possessed fossil he's brought on the Trans-Siberian Express. This frozen prehistoric ape man, discovered by Lee in a Manchurian cave, should be long dead and locked inside an enormous trunk. Somehow it manages to thaw itself out, escape, and go on a killing spree. Confronted with the empty trunk and the evidence of a murder, Cushing delivers this whopper of a line: "Are you telling me that an ape that lived 2 million years ago got out of that crate, killed the baggage man and put him in there, then locked everything up neat and tidy and got away?" To which Lee replies, "YES I AM! It's alive! It MUST be!"
Yes, it must be. There's no other explanation than the fossil came to life and started killing people! It MUST be! C'mon: that's got to be one of the most ridiculous exchanges of dialogue in movie history, and yet it's delivered with such absolute conviction by Cushing and Lee. That is textbook great acting: the ability to deliver hilariously bad dialogue without cracking a smile.
"Horror Express" has a lot of great acting, and just the right mix of camp and creeps. It's a silly movie, but it's genuinely scary at times too. The design of that ape man is spooky as all get out, as is the way it leaves its victims bleeding from blank, pupil-less eyes. I also got a big kick — and a good amount of chills — from the big autopsy scene, where Cushing systematically cuts open a victim's skull to find — gasp!! — their brain's all smooth! I hate it when that happens.
The film is sort of the original "Snakes on a Plane," only instead of a plane it's a train and instead of snakes it's one very pissed off prehistoric ape man (who's also harboring a dark secret — because God knows if this movie was just about a prehistoric ape man, that would be boring!). You don't get Samuel L. Jackson mothereffing it up, but you do get Hammer horror legends Lee and Cushing bickering like an old married couple. Admittedly, Lee tersely barking "I have had it with these motherfucking ape men on this motherfucking train!" would have been better. But that's just me being greedy.
The plot is an obvious variation of "Who Goes There?" or "The Thing From Another World." Eventually — SPOILER ALERT! — the ape man is revealed to be the host of the real killer, an alien consciousness that's been trapped inside this fossil for several millennia. As the ape is killed, the alien jumps into the body of a police inspector, who continues the killing spree. Inexplicably, he also gains one hairy ape man hand; even more inexplicably, no one seems to notice or suspect the guy with the furry paw (he keeps his hand in his pocket most of the time to avoid arousing suspicion which works surprisingly well). That whole device is kind of stupid, but there are clever elements of the screenplay. The movie frames the mystery surrounding the ape man's rampage as a debate between Lee, the man of science, and a monk, who believes the killings are a religious sign. Then the monk decides the ape man must be Satan himself, cast out from heaven lo those many years ago, and denounces his faith in order to worship his new, dark master.
Before it's over, "Horror Express" even squeezes in a Telly Savalas cameo (playing a grumpy Cossack!) and a chase scene with zombies, since the alien discovers it can reanimate its victims and turns them into undead slaves. Given the slightly dickish way Lee rejects the curiosity of anyone who suspects trouble from his trunk full of fossilized evil, I'm surprised "Horror Express"' ending is as upbeat and happy as it is. But I guess by that point enough people had been slaughtered in the name of our entertainment; might as well send the people out on a little bit of a high note.
Yes, that must be it. It MUST be!
"Horror Express" is now available in a DVD/Blu-ray combo pack. If you see it, let us know what you think, tell us in the comments below or write to us on Facebook and Twitter.