Christopher Lee talks about Saruman in "The Hobbit: An Unexpected Journey"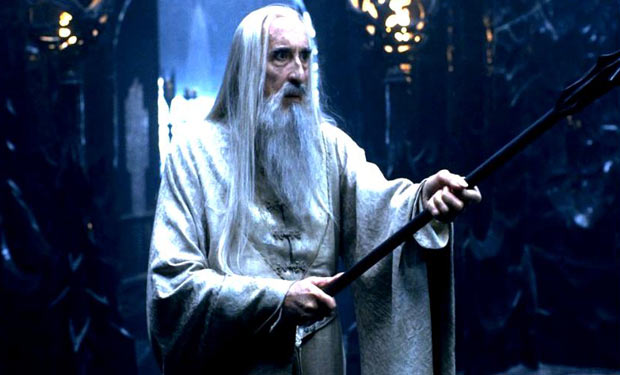 Posted by Terri Schwartz on
There are going to be plenty of memorable reappearances by some of our favorite "Lord of the Rings" characters in "The Hobbit: An Unexpected Journey" that didn't happen within the pages of the novel the film is based on. Frodo, for instance, will make a return through some tricky manipulation of the "Lord of the Rings" timeline, and Legolas will make an appearance even though only his father Thranduil actually shows up in "The Hobbit" novel.
Such is the case with Saruman, the white wizard who doesn't show up in "The Hobbit" story though later J.R.R. Tolkien literature reveals that he was actually pretty busy at the time Bilbo Baggins' tale was taking place. Actor Christopher Lee will be reprising his role as the head of the Council of Wizards, and he posted a Christmas message to YouTube in which he talks about the upcoming role.
"The Hobbit" takes place many years before "The Lord of the Rings," so needless to say we'll be seeing a different side to Saruman than we did in the later stories. According to Lee, Saruman is "indeed, still, Saruman the White" and will be "a good and noble man and the head of the Council of Wizards, as he always was."
It's nice that that is how director Peter Jackson has chosen to portray Saruman in the movie. A quick brush up on our "Lord of the Rings" mythology has Saruman attacking the evil Sauron at Dol Guldur to prevent his rise to power. Sounds like a good guy, right? Unfortunately, the context of that attack was for Saruman himself to try to gather more information about the possible location of the One Ring — which Bilbo ends up finding at about the same time as Saruman's attack — so he's maybe not as good and wholesome as Lee is making him appear to be.
Discrepancies aside, Lee added that several "Rings" characters won't be making an appearance in "The Hobbit," including Aragorn and the Rohirrim. A bummer, to be sure, but that will just be a sacrifice we have to pay to meet some new faces around Middle-Earth.
"The Hobbit: An Unexpected Journey" hits theaters on December 24, 2012.
Are you happy to hear we'll be seeing Saruman in a positive light? Tell us in the comments section below or on Facebook and Twitter.