Guy Pearce back in action in the international trailer for "Lockout"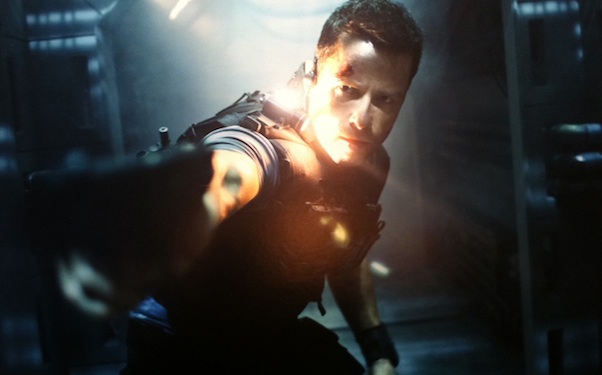 Posted by Matt Singer on
Guy Pearce doesn't make nearly enough movies. As a fan and outside observer, he appears to be pretty picky about projects, and lately he's been picking a lot more supporting roles in interesting films ("Animal Kingdom," "The Road," and "The Hurt Locker") than the leading man stuff ("L.A. Confidential," "Memento," "The Proposition") that first made him one of my favorite actors. Yes, he's taken a few starring gigs in some recent stuff, like the disappointing remake of "Don't Be Afraid of the Dark," but not much. And not nearly enough in action movies.
So this is a pleasant surprise: Pearce in the lead of a new Luc Besson sci-fi thriller opening next year. And I can't be the only guy who watched the following international trailer for the film, which is titled "Lockout" (or "Lock-Out," depending on the source), and thought it could do for Pearce what Besson's "Taken" did for Liam Neeson: that is, give him a chance to remind us how much of a badass he can be in the right vehicle. Take a look.
I'm really quite, ahem, taken with this trailer (I'm here all week, folks! Try the veal). Beyond Pearce and some good looking action, I admire its unusual structure (it's essentially one scene from the film with a highlights montage thrown in) and the clever use of titles (which appear behind Pearce's head each time he's punched by baddie Peter Stormare's henchman). The plot's not exactly clear, so here's how the film's IMDb page describes it:
"A man wrongly convicted of conspiracy to commit espionage against the U.S. is offered his freedom if he can rescue the president's daughter from an outer space prison taken over by violent inmates."
Hm… shades of "Escape From New York" perhaps? Come to think of it, Pearce is one of the few guys I can imagine making a credible Snake Plissken. For now, though, this will do quite nicely. "Lockout" is currently scheduled to open on April 20, 2012. Wild space horses couldn't keep me away.
What do you think of the trailer for "Lockout?" Tell us in the comments below or write to us on Facebook and Twitter.