"Ghost Rider: Spirit of Vengeance" trailer offers more chaos, fire and chain-whipping action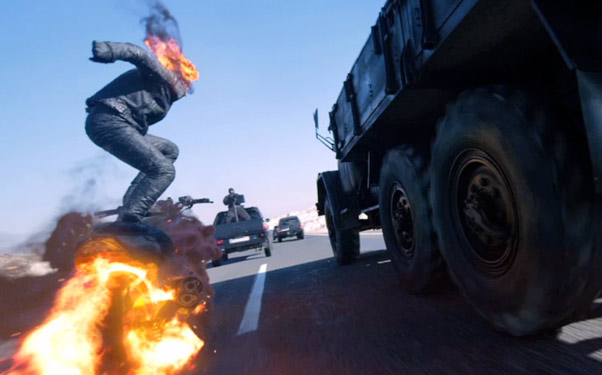 Posted by Brian Jacks on
Keep your seatbelts fastened, true believers, because there's a new trailer for "Ghost Rider: Spirit of Vengeance" — and though it doesn't feature the skull-faced hero peeing fire, there's a lot of other craziness to behold.
The new trailer comes hot on the heels (pun totally intended) of an early screening during this year's Butt-Numb-A-Thon. And while our reporter in attendance at the film festival didn't have much praise for "Spirit of Vengeance" ("It makes the first 'Ghost Rider' look like 'Iron Man,'" he wrote), there's still plenty of time for you to make up your own mind about Nicolas Cage's return to the role of Johnny Blaze, the human host for Marvel's fiery spirit of vengeance.
In the film, Johnny Blaze is recruited by a secret sect of the church to save a young boy (played by Fergus Riordan) from the devil himself (Ciaran Hinds). In order to do so, he'll have to embrace the demon inside of him and bring Ghost Rider back for another adventure.
Along with the trio of aforementioned actors, "Ghost Rider: Spirit of Vengeance" stars Violante Placido, Idris Elba, and Johnny Whitworth. The film is directed by the "Crank" duo of Mark Neveldine and Brian Taylor, and premieres February 17.
What did you think of the new "Ghost Rider: Spirit of Vengeance" trailer? Chime in below or on Facebook or Twitter.