The dozen funniest death scenes in otherwise serious movies (with video)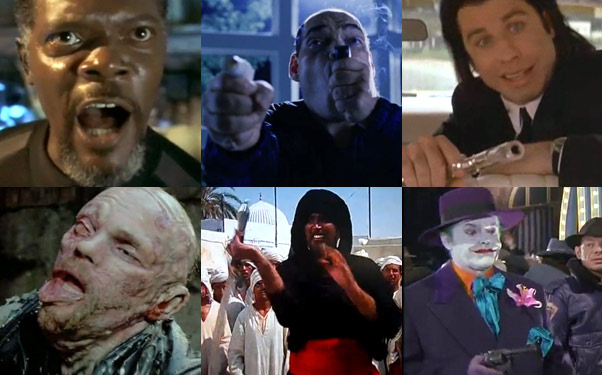 Posted by IFC on
Sometimes, death is a laughing matter. Here are ten death scenes in movies that are definitely more comic than tragic, even if the film themselves are of a more serious-minded sort. And yes, of course we've included the Sam Jackson vs. Shark (Shark wins) in "Deep Blue Sea."
---
Shot in the Closet in "Burn After Reading" (2008)
One of the most unexpected (and shocking) death scenes in the history of cinema, poor Brad Pitt's demise in the Coen Brothers' underrated "Burn After Reading" is actually brought on by his "Ocean's Eleven" pal, George Clooney. Fitness enthusiast Chad Feldheimer (Pitt) sneaks into the house of former CIA analyst Osborne Cox (John Malkovich) in the hopes of finding secret government files he can give to the Russian Embassy in exchange for lots of money and ends up hiding in the closet when Cox's wife's lover, Harry Pfarrer (Clooney), unexpectedly shows up. Harry then opens the closet and' well, just watch and see. Sure, Burn After Reading can most definitely be considered a comedy (it's not exactly one of the Coen Brothers' more "serious" movies), but having one of its main characters suddenly get shot in the head (as hilarious as it is) marked the film taking a turn into much darker and more sinister territory.
---
The Ballad of White Boy Bob in "Out of Sight" (1998)
George Clooney again, though this time he isn't the cause of the death in question — or is he? If master criminal Jack Foley (Clooney) hadn't been at the top of the staircase, then White Boy Bob (Keith Loneker) wouldn't have had to ascend the staircase, and he wouldn't have tripped, and' well, see for yourself. "Out of Sight" has the distinct honor of being the film that transitioned art house auteur Steven Soderbergh into the realm of big-time, big-budget Hollywood — this sexy crime thriller based on the novel by Elmore Leonard was his first of many collaborations with Clooney. Too bad White Boy Bob couldn't come along for the ride.
---
Marvin Doesn't Have an Opinion — or a Life — in "Pulp Fiction" (1994)
Poor Marvin. Well, at least we went out with someone talking to him about God and miracles, so maybe by default this final religious conversation guaranteed him a place in Heaven after Vincent (John Travolta) accidentally shoots him in the face. This, of course, makes a huge mess in the car, though Vincent and Jules (Samuel L. Jackson) manage to drive this bloody eyesore all the way to Toluca Lake, where they hide out with Jimmy (Quentin Tarantino) and wait for the Wolf (Harvey Keitel) to help them make it seem like this little incident never happened.
---
Sam Jackson vs. Shark (Shark wins) in "Deep Blue Sea" (1999)
The super-smart, super-fast shark in "Deep Blue Sea" doesn't have any patience for a passionate Samuel L. Jackson monologue. Well, that's not true — the beast lets Sam do his thing for a while, spewing forth his trademark authoritative, condescending, alpha-male histrionics as he tells the rest of the cast about his unfortunate avalanche experience, demanding they all get their shit together and concentrate on getting out of their current situation. Once Sam wraps the sermon and actually starts suggesting a specific course of action, though, the shark's had enough and quickly silences the would-be team leader. Forever.
---
Wheezy Joe's Tragic Confusion in "Intolerable Cruelty" (2003)
The Coen Brothers certainly know how to conjure a memorable — and rather hilarious — death scene. One of the more subversive moments in the otherwise completely disposable "Intolerable Cruelty" features the lumbering, asthmatic hit man, Wheezy Joe (Irwin Keyes), getting into a confusing scuffle with divorce attorney Miles Massey (George Clooney) in a dimly-lit house — amidst all of the hurly-burly, poor Joe mistakes his inhaler for a gun, and vice-versa — causing him to spray air in Clooney's face and, well, you can probably imagine the second part. Nice touch with the broken window, by the way.
---
Bob the Dead Goon in "Batman" (1989)
Just as the Joker "kinda liked" one particular piece of art in the Gotham Museum and spared it from being defaced, we "kinda liked" the Clown Prince of Crime's right-hand man, Bob (Tracey Walter). So we were "kinda saddened" when the Joker inexplicably blamed Bob for not being told that Batman had a Batwing and punished his number-one guy for this oversight by calmly and unexpectedly blowing him away with a single shot to the chest. "Gonna need a moment or two alone, boys," says the Joker afterwards — yeah, so will we.
---