Five things you didn't know about Portland history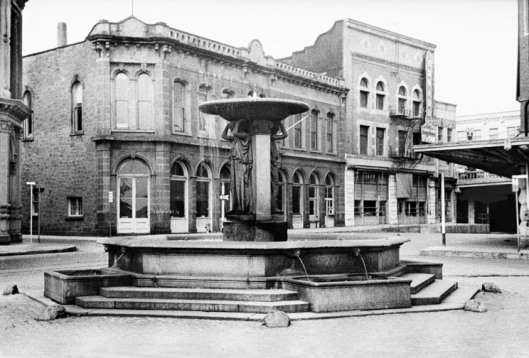 Posted by Matt Singer on
For outsiders, it can seem as if Portland just sprung out of the earth around the time the Decemberists put out their first album. Only in the last few years has the city been considered a "youth destination" and made the subject of a bazillion think pieces in New York-based magazines and–ahem–cable sketch comedy shows. Before then, who knew the place even existed? In truth, Portland was born on a coin toss in 1845 and has been a land of strange, bearded wonders ever since.
Just ask Doug Kenck-Crispin. As the resident "ribald historian" at orhistory.com and host of the bi-weekly podcast Kick-Ass Oregon History, he is well aware the phrase "Keep Portland Weird" isn't so much a rallying cry for the recent influx of hipster transplants as it is an unofficial town motto stretching back 167 years. Here, Kenck-Crispin provides us with five historical facts to prove that point:
1) In 1883, when Stephen Skidmore died, he bequeathed $5,000 to the city for a fountain. Skidmore vastly underestimated the cost of such a venture, and left woefully little dollars to complete the project. Henry Weinhard's offer to fill the Skidmore fountain with beer for the 1888 dedication was turned down by party pooper Henry Failing.

2) On St. Patrick's Day in 1948, Mill Ends Park was dedicated. The park has been recognized by many schooled in such trivial matters as the World's Smallest Park. Yet again, eternally imprisoning us in a shameful stance when we want to say to Seattle, "mine is bigger than yours."

3) While we at orhistory.com are quite familiar with strippers named Mercedes and Erotica, we wish we could have met Portland's Best Named Whore, Boneyard Mary. A longshoreman named William McMahon went missing from his ship, the Willamette Slough, and the harlot–more than just an acquaintance of Mr. McMahon's–was suspected. A friend of the deceased, who found his cabin empty, was named "Wide Awake" Harrington, yet again demonstrating that Portland has always been Tweakerville. (And the coppers were never able to pin the caper on Mary.)

4) Remember the time the parks downtown were occupied by a bunch of dirty hippies protesting "the system," camping and partying and fucking until the Mayor got tired of this bullshit and sent in the police? Oh, but wait, that was May 1970 at the PSU Park Blocks, when Mayor Terry Schrunk's cops beat the shit out of a bunch of hippies, sending 31 protesters to the hospital. Props to Sam Adams, Portland's kinder, gentler mayor.

5) Likely Portland's first food cart, in 1957 a dozen ladies from a Red Cross class simulated feeding mass refugees from the holocaust of an atomic apocalypse. Called the Civil Defense Austerity Meal, the women cooked over an oven made from rubble brick and a galvanized garbage can. The menu consisted of a casserole of baked beans and wieners, scalloped potatoes and ham, pickled beets and a tossed salad. Ahhh-palling to you Portland foodies, indeed!
Not enough? Here now, courtesy of the all-knowledgeable Twitter feed Ancient Portland, are five even more arcane things you didn't know about Portland. Why are they so arcane? Well, because they're totally made up.
1) According to the historian Tacitus, Portland was founded in 851 BC by Willamette Valley warlords, who vowed they would never use umbrellas, even if common sense demanded it. This is a custom that continued through modern times. Indeed, an anonymous 1771 diarist wrote: "It is curious that, given the Inclemency of Climate & Constancy of Rain, Portlandians care not if their Wigs become soaked."

2) In antiquity, Portland's economy was based on moss. Moss farmers spent much of the year in the drizzle, sipping ale or coffee until summer. Little has changed. Interestingly, "moss farmers" was a derogatory term for Portlanders during the 16th-century Californite Wars.

3) Writer and libertine Giacomo Casanova's visit to the celebrated Portland pâtissière Voodoo Doughnuts in 1791 proved scandalous when he chose a pastry that, according to a local chronicler, "amusingly resembled the Priapic member."

4) Portlanders have always been serious about eating locally. Portland's ancient locavores lived exclusively off squirrels, dandelions, crows, and Burgerville hazelnut milkshakes.

5) Likewise, Portland has always had an affinity for coffee. According to tradition, St. Drogo, patron of baristas, lived in a Goose Hill monastery and made devout latte art depicting the Virgin Mary. He was brutally martyred via steam wand in Canby in 1185. Scholars believe, however, that Portland's first specialty coffee drink was not made until 1711 and was milk, coffee, and ground-up Egyptian mummies. Critics were horrified that the mummies were not local.