Five Reasons to Watch "Beautiful Girls" Tonight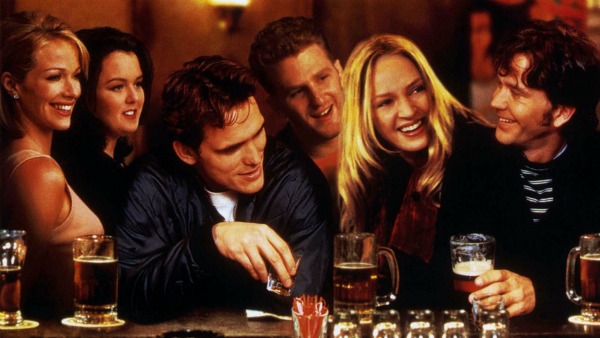 Posted by Melissa Locker on
Head to a high school reunion tonight. Don't worry, it's not yours! In "Beautiful Girls,"Willie Conway (Timothy Hutton) heads to his small snowy New England town for a high school reunion bringing with him a whole host of emotional turmoil, decisions to be made, and memories. His arrival (and the reunion) bring together a diverse band of former classmates who are all struggling at their own crossroads in life. It's a sweet, thoughtful film with a few laugh-out-loud moments and enough Uma Thurman to keep everyone interested. If that's not enough for you, here are five other reasons to watch "Beautiful Girls" at 8 p.m. ET tonight:
1. Matt Dillon
As Tommy the former high school hockey star turned head snow plower, Dillon delivers as a man ashamed that he never rose to his full potential in life. He has never let go of his youthful glory days to the extent that he is still having an affair with his old high school girlfriend (Lauren Holly), despite the fact that she's married and he is in a relationship with Mira Sorvino's character.
2. Martha Plimpton
Plimpton plays Jan, who dumps her boyfriend Paul (Michael Rapaport) for his inability to get rid of the centerfolds lining his garage. She's also a vegetarian,  dating a meatcutter which irritates Paul to no end.
3. Natalie Portman
Portman makes another notch in her "inappropriate crush" belt with her portrayal of Marty, a 13-year old next door neighbor who is a self-described "old soul." Just because she's old on the inside doesn't mean it's not creepy when she's putting the moves on Timothy Hutton.
4. The Afghan Whigs
The band has a cameo in the movie because  Greg Dulli, the band's lead singer, was close friends with the film's director Ted Demme. There are few reasons to post an Afghan Whigs video on the site, so we're seizing the opportunity:
5. Rosie O'Donnell
As Gina, the hair stylist with the mostest, O'Donnell plays a fast-talking smartypants who has no qualms about  spouting pearls of wisdom at the men and women in her life. Her poignant rant against how magazines present unrealistic images of women is one of the film's highlights.
*Bonus Reason* It's better than going to your own high school reunion
"Beautiful Girls" airs tonight at 8 p.m. ET