Five of the greatest Christmas movie villains of all time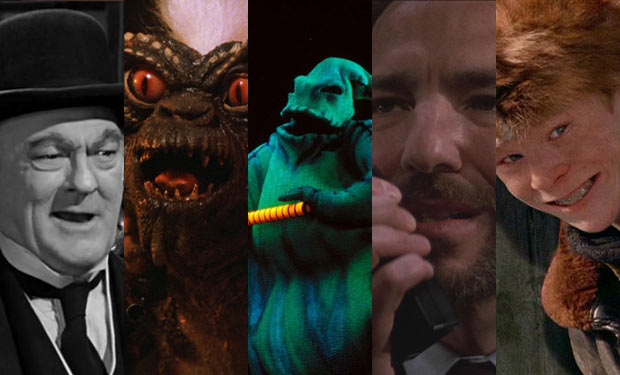 Posted by Will Weinand on
Christmas movies are usually about the celebration of a time of year when everyone comes together to share gifts, affection and good will towards all. The plots range from grounded stories about families trying to survive the holidays, to adventures about mythical beings like Santa Claus and his elves working to ensure that every child wakes up on Christmas morning to an extravaganza of toys beneath their tree.
With all that in mind, what fun would these stories be without the antagonists that do everything in their power to derail everyone's good time? Here's our list of the best of the worst who tried to steal Christmas.
---
1. Mr. Oogie Boogie from "The Nightmare Before Christmas"
Tim Burton's villains typically have a flair for the dramatic, but Oogie Boogie takes things to an entirely other level. He's a magical, evil sack filled to the brim with every manner of creepy crawly. He lives in a place that is essentially one giant death-trap with a decorating scheme that reveals a crippling addiction to gambling.
This guy is so evil that he does a musical number about how awful he is while torturing Santa Claus, which is really as metal as a Christmas movie should get.
---
2. Scut Farkas from "A Christmas Story"
Part of what makes Sut such an effective villain in "A Christmas Story" is how relevant he is to childhoods in general. If you managed to make it entirely through grade school without being menaced by a bully, you were either a martial arts master OR, y'know…a bully yourself.
The other thing that makes Scut great is the two-dimensional simplicity of his nature. He hangs out cackling behind the fence every day, springing upon smaller children with his coon-skin cap and jaundiced eyes, pounding on the weak with his stout accomplice at his side. And then he lets them go. He's the perfect antagonist for a film where the real enemy is a BB gun.
---
3. Stripe from "Gremlins"
Where villains like Scut Farkas are just evil enough to keep things fun for the whole family, Stripe is purely sinister monster with a homicidal thirst that won't be satiated until the world is overrun with his water-generated offspring. There's nothing even remotely tragic about him, he engineered everything from his transformation from mogwai to gremlin, to the onslaught that turned Chistmas Eve in Kingston Falls in to a full blown massacre.
Plus he tried to kill Gizmo. And seriously, how can you hate Gizmo?
---
4. Hans Gruber from "Die Hard"
It's one thing to try to steal Christmas, it's entirely another to try and steal Christmas along with $640 million dollars in bearer bonds from the Nakatomi Corporation during the holiday party while also posing as international terrorists. Hans is so eloquently over the top that Alan Rickman's portrayal became the industry standard for what an international super-criminal should be.
I would pay money to see what this guy asked Santa for when he was a kid.
---
5. Old Man Potter from "It's a Wonderful Life"
If they did a remake of "It's a Wonderful Life" today, there would be an entire "Occupy Bedford Falls" protest outside of Potter's office throughout the course of the movie. Instead, it's really up to poor George Bailey, who finds out from an angel that if he didn't abandon his dreams and stay in the same place for his entire life, Potter would have run the entire city in to the ground and turned the entire population in to criminals, thugs and head-cases.
Potter is so evil that after picking up the crucial deposit Bailey's absent-minded uncle dropped in the bank, he pockets it and then watches Bailey's life unravel. When George throws himself at Potter's mercy on Christmas Eve, broken, suicidal and about to lose everything, Potter's reaction is call the police on Bailey for not having the stolen money the old man has in his own possession. And the one thing that makes Potter worse than any of the other villains on our list? He gets away with it. The film takes the high road and celebrates the gift of family and community, while Potter counts his money. It's for that very reason that instead of a clip from the actual film, we leave you with the the classic "Saturday Night Live" sketch about the director's cut ending to the film, where Potter finally gets what's coming to him.
Who are some of your favorite Christmas movie villains? Tell us in the comments below or on Facebook or Twitter.