Five movies guaranteed to freak out anyone with a fear of heights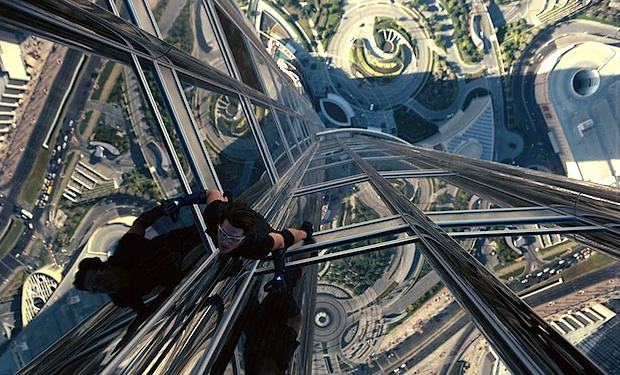 Posted by Matt Singer on
Acrophobics beware! Stay far, far away from Brad Bird's "Mission: Impossible – Ghost Protocol," especially the scene where Tom Cruise dangles precariously off the top of Dubai's Burj Khalifa, the tallest building in the world. The Burj is over 2700 feet and 160 stories high, and Cruise actually hung from its windowed exterior.
In the ultra-large IMAX format, it really feels like you're up on the edge of that building with Cruise. It's a thrilling sensation for your average moviegoer, and a sickening one for anyone afraid of heights. Which got us thinking: what are the other worst movies for acrophobics?
Here's the five we picked, complete with stomach-churning video of their ickiest moments. There are plenty of other choices, of course; you can leave yours in the comments below. But remember: whatever you do, don't look down.
---
"Mission: Impossible II" (2000)
Directed by John Woo
"Ghost Protocol" isn't Cruise's first ride on the crazy heights rodeo. He famously kicked off the first "Mission: Impossible" sequel with an equally vertiginous sequence atop Utah's Dead Horse Point. Why is anyone surprised when this man has a mild freakout on a talk show couch? I'm pretty sure this sequence, performed with cables and stunt doubles but no safety net, conclusively proves he's insane. The shot where he willingly takes his left hand off the ledge and leans back over the yawning expanse makes me legitimately nauseous.
---
"Man on Wire" (2008)
Directed by James Marsh
"Death is very close," says Philippe Petit as he describes the sensation of peering over the edge of the World Trade Center on August 7, 1974. Yeah, no shit man! You walked on a high wire between the tallest buildings in the world! It is very hard to watch this footage — even if you're not afraid of heights — without your palms starting to sweat.
---
"Cliffhanger" (1993)

Directed by Renny Harlin
The breathtaking cinematography high atop the Rocky Mountains is bad enough. But then you add in a terrifying scenario for anyone afraid of heights — a climber's gear breaks in the middle of precarious crossing between two peaks — and you've got some serious nightmare fuel. The rest of "Cliffhanger" is fairly silly; it involves suitcases of stolen cash and John Lithgow with an outrageously haughty British accent. But this opening scene cuts to the bone. Stallone screams "You're not gonna die!" and then drops this poor woman anyway. Absolutely heartbreaking.
---
"Eraser" (1996)
Directed by Chuck Russell
Just remember, guys: if you ever find yourself in a plane with the engine on fire and the door open, just hold on reeeeeeally tight. Grunting seems to help as well. Oh, and if you drop a parachute out of an airplane, you can totally catch up to it if you just aim your body carefully.
---
"Saboteur" (1942)
Directed by Alfred Hitchcock
This one doesn't just make you afraid of heights, it also makes you afraid of shoddy textiles. Hitchcock wraps up "Saboteur"'s movie-long chase at the Statue of Liberty, where the hero (Robert Cummings) chases a Nazi saboteur (Norman Lloyd) out onto the Statue's torch. The saboteur slips and the hero catches him by his jacket sleeve. But then the sleeve slowly starts to rip at the seam. And rip a little more. And then…well, you know.
---
What movie scenes make you afraid of heights? Tell us in the comments below or on Facebook and Twitter.