"Extremely Loud and Incredibly Close" trailer focuses on a post-9/11 emotional journey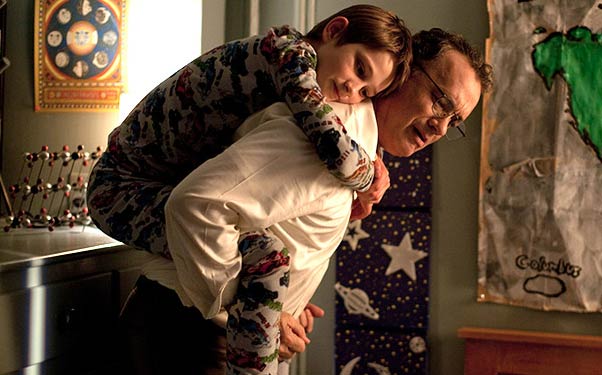 Posted by Terri Schwartz on
"Extremely Loud and Incredibly Close" isn't pulling any punches. It's a film that occurs after 9/11 about a family personally affected by 9/11 in a post-9/11 world. It's going to be emotional, it's going to be sappy, and it's probably going to make you cry.
With that out of the way, it's fair to say that "Extremely Loud and Incredibly Close" is shaping up to look like one of the stronger Oscar contenders this year. A new trailer for the film focuses on the emotional, heavy-hitting side of its story. Easily the most effective scene in it takes place as Sandra Bullock, the mother in the movie, finds out that her husband is on a high floor in the World Trade Center buildings after suicide bombers hit them on September 11, 2001. If that scene doesn't at least give you chills, you probably don't have a heart. That, or I'm just a big baby.
It's interesting and a bit misleading that the trailer chooses to spend so much time on the event specifically regarding 9/11 instead of spending more time explaining the true plot of the film. Main character Oskar Schell, played here by newcomer Thomas Horn, after he finds a mysterious key in his dead father's closet. He goes on a quest around New York City to try to discover the purpose of the key, and ends up connecting with strangers and overcoming his grief at his father's tragic death.
The emphasis on the 9/11 sequences probably has something to do with the fact that Warner Bros wants to emphasize Tom Hanks' involvement in the movie. Considering the fact his character, the dad, is dead by the time the present day of the storyline is unfolding, his role will largely be relegated to flashbacks. Hopefully the movie allows leading man Horn to shine as Oskar, a memorable and wonderful character, instead of using Bullock and Hanks as crutches.
"Extremely Loud and Incredibly Close" is due out in theaters on Christmas day in limited release, and on January 20 in wide release.
What did you think of the second "Extremely Loud and Incredibly Close" trailer? Tell us in the comments section below or on Facebook and Twitter.