"The Expendables 2" teaser is anything but disposable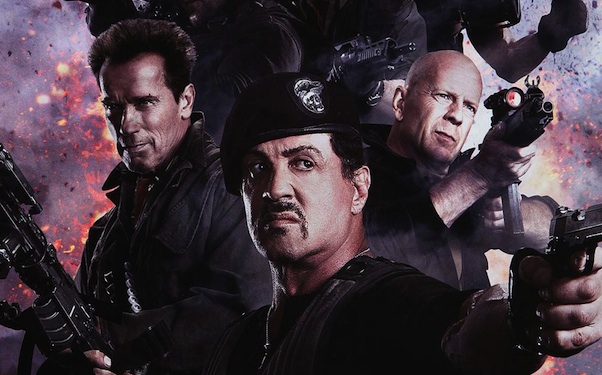 Posted by Matt Singer on
They're baaaaaaaaaack. Everyone's favorite gang of lovable hired killers, The Expendables, returns to theaters next summer in "The Expendables 2." Doesn't look like the movie has a subtitle; personally, I would have gone with "The Expendables 2: Expend Harder."
Maybe a sequel's no surprise with Arnold Schwarzenegger in the cast; that dude's always threatening to be back. Once again, he's good to his word. Returning with him are writer (but not director this time out) Sylvester Stallone, Bruce Willis, Jason Statham, Jet Li, Terry Crews, Dolph Lundgren, and Randy Couture. Joining the cast are macho men Chuck Norris and Jean-Claude Van Damme who, kind of hilariously, is credited in the trailer as "Also Van Damme." As in "With Willis. And Schwarzenegger. Also Van Damme." For a second I thought he might have changed his first name to Also. Apparently that is not the case.
It's a short 60 second teaser but it's enough to get you good and teased. Take a look.
I'm still trying to find out why Jet Li wasn't on the poster for the movie, even though he is in the film. You think maybe he gets expendabled right out of the movie in the opening minutes, sparking whatever storyline Willis' Mr. Church is hinting at? Seems plausible to me. Whatever the reason, we'll know for certain when "The Expendables 2" opens August 17, 2012.
Who's your favorite "Expendables 2" cast member? Tell us in the comments below or write to us on Facebook and Twitter. And yes, Schwarzenegger is the correct answer.