"The Dark Knight Rises" teaser poster reveals the fury of Bane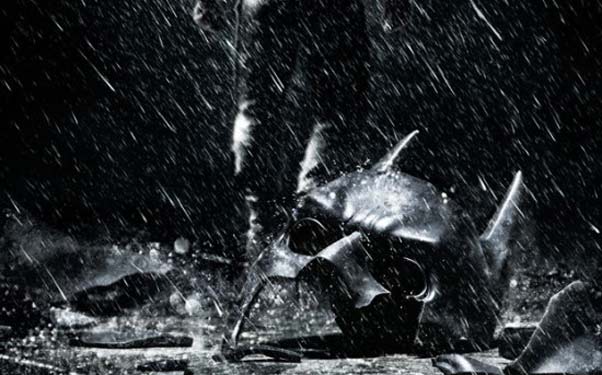 Posted by Terri Schwartz on
The Dark Knight might be rising in theaters come July 20, but the new teaser poster for the flick broadcasts a broken Batman. The one-sheet for "The Dark Knight Rises" features the tagline "The Legend Ends" and its imagery implies the "The Man who Broke the Bat" storyline that villain Bane is best known for.
So does this mean that "The Dark Knight Rises" will go the same route that the comic book storyline does, with Bane breaking Batman's spine and forcing Bruce Wayne to give up his Batman persona while he recuperated? Maybe. It certainly would be a plot line in keeping with the rest of director Christopher Nolan's Batman universe. There are plenty of other routes Bane's storyline could take in this film, but the shot of Batman's mask shattered on the ground while the villain walks away in the background certainly makes us think that the Dark Knight's spine might also get a bit smashed.
This poster jumpstarts the upcoming week of "The Dark Knight Rises" promotion that we've been anticipated for a while now. Fans will get an early look at the film's prologue before IMAX screenings of "Mission: Impossible — Ghost Protocol" starting on December 14, and can even catch free screenings the night before at 10pm. There's also a pretty good chance that a new, full-length "The Dark Knight Rises" trailer will debut before "Sherlock Holmes: A Game of Shadows" on December 16. Both are sure to showcase all the elements of the movie we're looking forward to, including Bane, Catwoman and Marion Cotillard's mysterious character.
Do you like the new "The Dark Knight Rises" teaser poster? Tell us in the comments section below or on Facebook and Twitter.