Early screening of "The Dark Knight Rises" prologue shows off Bane and Catwoman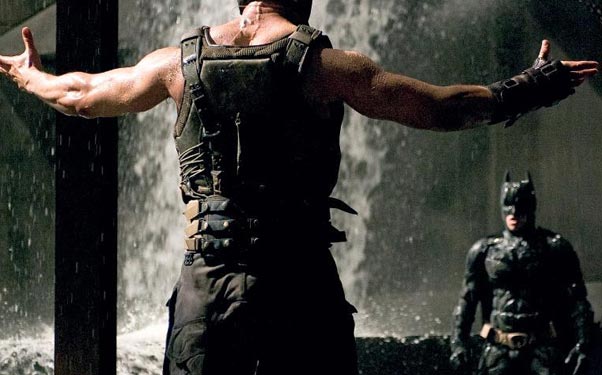 Posted by Terri Schwartz on
"The Dark Knight Rises" prologue has officially made its premiere to some lucky Los Angeles-based journalists. Christopher Nolan debuted the footage last night at Universal Hollywood's CityWalk IMAX theater, and the response has been generally positive.
Much like the prologue released for "The Dark Knight" several years ago, this footage introduces audiences to the flick's villain, Bane. The major complaint with the scene shown is that Tom Hardy's Bane is mostly unintelligible, with one writer for HitFix saying they "only picked up about 10 percent of what he said."
Beyond that, though, the prologue is supposed to be pretty intense. The journalists were asked to keep mum on the specifics about the scene, but from what we can gather it follows Bane as he conducts a hostage situation in a plane. Comics Alliance describes it as "an astonishing aerial set piece that immediately identifies Bane as the fiendishly clever but deadly villain depicted in his earliest comic book appearances."
The fight that ensues ends up making great usage of the IMAX screen, according to Coming Soon. "We get to see Bane and an ensuing fight that takes every advantage of the IMAX frame," they write. "Think less 'The Dark Knight' and more 'Inception' or, even closer, an IMAX version of a James Bond film."
At the conclusion of the footage is a series of quick shots that also were shot using an IMAX camera. Among those scenes are images of Catwoman, as well as scenes that apparently will be familiar to those who have been keeping up with the leaked set photos.
These journalists aren't the only ones who are going to get to see the footage early. A new viral website for "The Dark Knight Rises," called Operation Early Bird, has a list of theaters that will screen the prologue at 10pm on Tuesday, December 13.
Are you excited about seeing "The Dark Knight Rises" footage? Tell us in the comments section below or on Facebook and Twitter.