Christopher Nolan allegedly won't alter Bane's dialogue in "The Dark Knight Rises"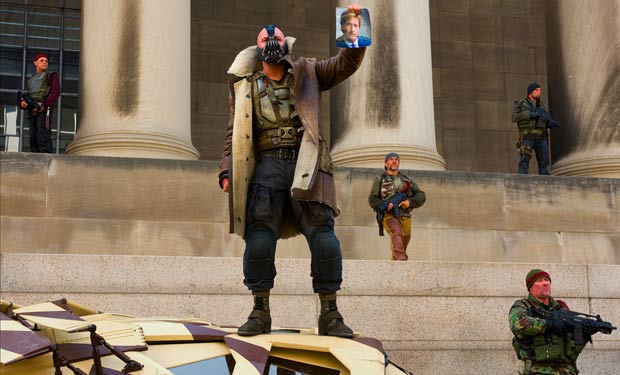 Posted by Terri Schwartz on
"The Dark Knight Rises" might be one of the most anticipated movies of 2012, but it could have one major flaw that detracts from its success. Fans have flocked to IMAX screenings of "Mission: Impossible — Ghost Protocol" to catch the six-minute prologue to the upcoming Batman film, and they all seem to be coming out with the same complaint: villain Bane (Tom Hardy) speaks unintelligibly.
It largely seemed to be a problem with the sound mixing. Bane speaks through a mask that covers his nose and mouth, so of course it would be a little bit difficult for Hardy to speak clearly through it. Do a quick dubbing, clean up some of that muffled sound, and problem fixed. Voilà.
But The Hollywood Reporter has learned that director Christopher Nolan isn't going to make the process that easy. While some high level Warner Bros. execs are wringing their hands over this problem, Nolan apparently likes the fact that audiences can't entirely understand what Bane is saying. He plans to alter the sound slightly, but not rework it completely.
"Chris wants the audience to catch up and participate rather than push everything at them. He doesn't dumb things down," one source tells THR. "You've got to pedal faster to keep up."
That's all well and good, but as Collider points out, it's not as effective when the characters onscreen can understand what Bane is saying but the audience can't. The release of the film is still seven months off and Nolan hasn't presented a cut of the film to the studio yet, so there's still some hope for Bane's voice, but in the end this could potentially be the strike against the movie that breaks the bat.
Did you find Bane's voice too hard to understand? What do you think about Nolan's decision not to change the audio much? Tell us in the comments section below or on Facebook and Twitter.