Exclusive premiere: Dale Earnhardt Jr. Jr. – Sólheimar, Iceland – "Nothing But Our Love"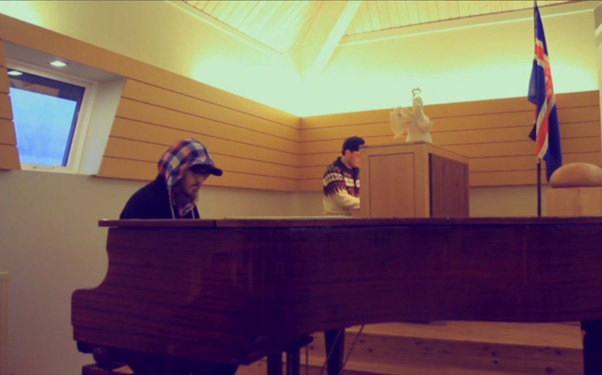 Posted by Brandon Kim on
Detroit's Dale Earnhardt Jr Jr, aka Josh Epstein and Daniel Zott, went to a remote village in Iceland, and after touring the environs in cozy sweaters shot this video in nostalgic hues within the community church. An hour outside of Reykjavík, the village of Sólheimar was founded by a woman in 1930, to be a self-sustainable community. Perhaps the most brilliant aspect of this place, and it's eco-buildings nestled harmoniously with the natural landscape, is that people of all backgrounds, including the "so-called able and disabled," are given an opportunity to thrive there, together.
They make what they need within the village at six workshops including a candle maker, potter, weaver, and an herbal workshop that makes all their soaps, and shampoos. Take a gander at this incredible village, through the lens of director Claire Marie Vogel, it's immense wood chimes, and it's people amid their organic greenhouses, cafes, and craft workshops to Epstein and Zott's wonderfully minimal, "Nothing But Our Love."
video player loading
.
.
.
"It's A Corporate World" released on Quite Scientific Records in conjunction with Warner Bros. in June, building on Dale Earnhardt Jr. Jr.'s DIY release, the Horsepower EP, which the band recorded in Zott's basement studio using a single microphone.
Watch for the band hitting the road with Fitz And The Tantrums in January, and on Conan on Jan. 30th.
Did you know that race car driver Dale Earnhardt, Jr endorses the band? Let us know in the comments below or on Twitter or Facebook!