Countdown to Top Ten 2K11: "Point Blank"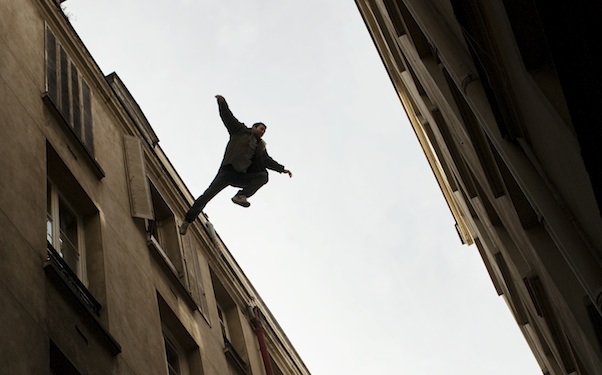 Posted by Matt Singer on
Countdown to Top Ten 2K11 is a column with one simple goal: to help you decide what films you need to see before making your end of the year top ten list. Each installment features my thoughts on a critically acclaimed 2011 movie, a sampling of other critics' reactions, the odds of the film making my own list, and the reasons why it might make yours.
This time we're covering "Point Blank," an arthouse thriller from France. But is this European import important enough to make your top ten list? Let's find out.
Movie: "Point Blank"
Director: Fred Cavayé
Rotten Tomatoes Score: 91%
Plot Synopsis: A nurse's assistant is blackmailed into helping a criminal escape from the hospital. If he doesn't do as he's told, his pregnant wife will be killed.
What the Critics Said: "My nerves are still jangling," Michael Phillips, Chicago Tribune
"Preposterously exciting," Joe Morgenstern, Wall Street Journal
"A classic Hitchcock plot," James Rocchi, MSN Movies
Were They Right? Yes, this is a very entertaining and exciting movie, though I'm not sure it's preposterously exciting. That would imply it's an exceptional, one-of-a-kind movie, more exciting than any action movie ever made in the history of cinema. Not true, and not true to the spirit of the movie either, which is lean and workmanlike, and not prone to wild bouts of verbal or physical hyperbole.
Let me explain. "Point Blank"'s protagonist is a man named Samuel (Gilles Lellouche). I was about to describe him as "Point Blank"'s "hero," but the fact that Samuel is not a hero is crucial to his character. Samuel isn't a lunatic cop on the edge or a risk-addicted bomb defuser stationed in Iraq; he's an assistant nurse in a Paris hospital. He possesses none of the prerequisite skills an action hero requires to survive an action film, save Lellouche's ruggedly handsome face of perfect, 5 o'clock shadow. As Rocchi mentioned, Samuel is a classic Hitchcockian wrong man: the innocent guy thrust into dangerous circumstances by bad timing and shitty luck. In this case, Samuel just happens to interrupt an assassination attempt on an injured man who's been brought to the hospital where he works. Other underworld types notice Samuel's accidental altruism and take advantage of it. They follow him home, beat him into unconsciousness, and kidnap his pregnant wife. Sneak the injured man out of the hospital, a mysterious voice on the other end of the telephone tells Samuel when he comes to, or your wife and unborn child are both dead.
Now this wouldn't be a big deal if it happened to, say, Liam Neeson — in fact, this is basically the exact same premise as Neeson's 2008 film "Taken," except in that case, when Neeson's character received a similarly threatening phone call from a similar bunch of kidnappers he responds with, and I'm paraphrasing, "Fuck you, I'm Liam Neeson, and I'm going to find you, kill you, rescue my daughter, then kill you some more just because I'm so fucking awesome." Samuel, unfortunately, is not Liam Neeson. This is the scariest thing that has ever happened to him, and there is no second scariest thing on the list.
Understandably, he reacts with panic. He does what the man on the phone asks, and that only gets him into bigger trouble with the police. The centerpiece of the film is a very long foot chase through the streets and subways of Paris. By the skin of his teeth, Samuel escapes. At this point he's been running full speed for maybe fifteen minutes straight. Samuel's no Usain Bolt; he's not even Liam Neeson. So what does he do? He pukes his guts out.
How often do you see the male lead of an action movie puke? And not because he's drunk or because his wacky partner poisoned his coffee, but because he is terribly out of shape and scared out of his mind? Almost never. And that's why "Point Blank" is so much fun to watch. It's features an everyman protagonist who actually behaves like every man would in this situation. Not the man we'd hope we'd be, buff and confident and unflappable, but the guy we probably are: loyal, loving, and kind of a screwup. This movie is a celebration of ordinariness, not preposterousness.
There are a lot of great plot twists in "Point Blank" I don't want to spoil, which means I can't really say much more about the movie. But it's not a life-changing thriller; it's not even the best French thriller I saw this year (that title would go to "Sleepless Night," though that film doesn't open here until 2012). It could use a bit more character drama to enhance the impact of all that action. "Point Blank" is good. It's just not preposterously good.
Worthy of an Oscar Nomination For: They don't give out Oscars for Best Foot Chase, so none, unfortunately.
Chances of Making My Top Ten: About as good as my chances of evading a citywide manhunt if my own wife were kidnapped; in other words, slim to none.
It Might Make Your Top Ten List If: you value pure entertainment in movies over anything else; you think that genre films in foreign languages are automatically more important or more meaningful than genre films made in English.
Previously in Countdown to Top Ten 2K11
"The Arbor," directed by Clio Barnard
"Cold Weather," directed by Aaron Katz
"Meek's Cutoff," directed by Kelly Reichardt
"Margin Call," directed by J.C. Chandor
"Bill Cunningham New York," directed by Richard Press
"Hanna," directed by Joe Wright
Have a movie you wanted covered in a future installment of Countdown to Top Ten 2K11? Let me know on Twitter.