"Avengers" star Cobie Smulders talks about playing S.H.I.E.L.D. agent Maria Hill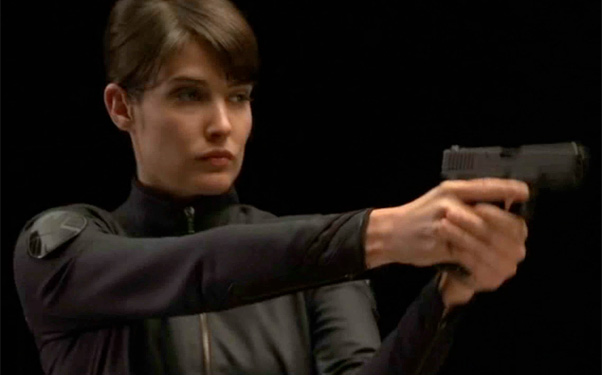 Posted by Terri Schwartz on
Spoiler's alert: we here at IFC News are pretty freaking pumped for "The Avengers" to hit theaters in May. Everything from the trailer to the posters to the latest interviews with the crew has gotten us duly excited for the upcoming ensemble Marvel superhero movie. And that's why any small tidbit of news regarding Cobie Smulders in the flick gets us all in a tizzy.
So far the "How I Met Your Mother" star hasn't been featured very prominently in the marketing for the film. She plays Maria Hill, an agent of Marvel's secret law enforcement agency S.H.I.E.L.D. Since she has no superpowers and Samuel L. Jackson's Nick Fury is her superior, it makes sense why she hasn't figured into the promotion for "The Avengers" other than in one Comic-Con poster and a behind-the-scenes photo. But that hasn't prevented her from being thrilled to be a part of the movie. Based on her comments to Vulture, it seems like "The Avengers" is one of the best experiences Smulders has ever had on a film.
"We had so much fun shooting ['The Avengers']. We had days when it was just us working — and, oh, 200 extras — but, you know, in the inner circle, it was nice to sit by the monitor with [director Joss Whedon] and watch him take on this ginormous project with great ease," she said.
This isn't the first time Whedon has eyed Smulders for a project. Back when he was still developing "Wonder Woman," he was considering having her as the title character. Vulture asked Smulders if Whedon ever brought that potential casting decision up during the "Avengers" shoot.
"No! If he did, I would throw up in my mouth," she said. "I mean, the 'Wonder Woman thing was a very kind comment, I think. I was never in touch with studios about it or anything like that."
Still, Maria Hill might be winning some fans to her favor once they see her on the big screen. Smulders described her costume as being "very sleek, and very leather" and said that coupled with her superpowers and hyperintelligence, Hill is a "fine woman who has all the answers." It sounds to us like Smulders might be shaping up to have a career as a "sexy-brunette-vixen," to steal Vulture's words.
"You know, fingers crossed! If I can be seen as somewhat sexual, if only to my fiancé, after having a child and turning 30, I will be happy for us," Smulders responded.
Are you excited to see what Smulders brings to the table in "The Avengers"? Tell us what you think in the comments section below or on Facebook and Twitter.