"Cloud Atlas" behind-the-scenes photo shows off the Wachowskis and movie props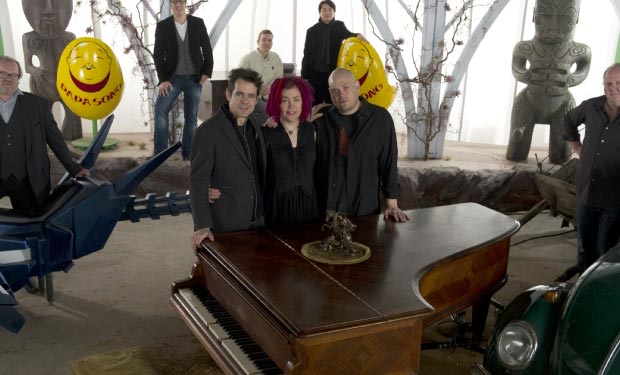 Posted by Terri Schwartz on
The Wachowskis are never creators to do anything the usual way, and that's why we love them so much. Their upcoming genre-bending film "Cloud Atlas" that teams them up with director Tom Tykwer recently wrapped filming, and to celebrate that the production team released a unique first-look photo of the film to Empire magazine. Instead of showing the cast or a scene from the film, the Wachowskis, Tykwer and members of their creative team took a posed photo on set with a bunch of the film's props.
Novelist David Mitchell, executive producers Uwe Schott and Philip Lee and producers Stefan Arndt and Grant Hill join Lana and Andy Wachowski and Tykwer in standing next to props from the movie's six interlinking tales. The Wachowskis are standing in front of the VW Beetle that Halle Berry's character drives in the movie. In addition, there are also Chatham Island totems, a piano belonging to the composer of the "Letters from Zedelghem" chapters, gadgetry from dystopian futuristic Korea and a cart that Empire is guessing will be used to carry post-apocalyptic veggies around Hawaii.
"Cloud Atlas" stars Berry, Tom Hanks, Jim Sturgess, Hugo Weaving, Susan Sarandon and Hugh Grant, and will be in theaters on October 26, 2012.
What did you think of this first image from "Cloud Atlas"? Tell us in the comments section below or on Facebook and Twitter.