Christopher Nolan on "The Dark Knight Rises" villain Bane and the 8 year time leap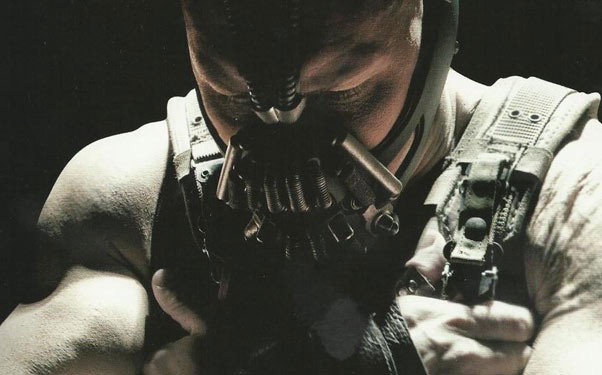 Posted by Terri Schwartz on
There are plenty of questions we have about "The Dark Knight Rises." Who are Joseph Gordon-Levitt and Marion Cotillard really playing? What function does Catwoman have within the film? Will Bane actually break the Bat? And just how distorted will Christian Bale's voice be this time around?
Unfortunately, it seems highly unlikely that any of those questions will be answered any time soon (like, before the film's July 20 release date). But what director Christopher Nolan is ready to talk about is his new main villain, Bane. The Los Angeles Times caught up with him recently, and Nolan was quick to admit he didn't know much about Bane before production on "The Dark Knight Rises" started.
"I only knew him by name, I wasn't familiar with his back story. He's a very cool character. And getting an actor like Tom to take it on, you know you're going to get something very special," Nolan said of actor Tom Hardy. "Tom is somebody who really knows how to put character into every gesture, every aspect of his physicality in the way that great actors can. He's a very, very physical actor. He transforms himself and it's there in every movement."
That's important to Bane as a character because, as Nolan put it, "physicality is the thing." He explained that Hardy looked at Bane as a character "from the outside as well as the inside" so he could truly be able to understand him and be aware of him as he brings Bane to the big screen.
Nolan went on to explain how Bane will be differentiated from Heath Ledger's The Joker in "The Dark Knight."
"With a good villain you need an archetype, you know, you need the extreme of some type of villainy. The Joker is obviously a particular archetype of diabolical, chaotic anarchy and has a devilish sense of humor. Bane, to me, is something we haven't dealt with in the films," Nolan said. "We wanted to do something very different in this film. He's a primarily physical villain, he's a classic movie monster in a way — but with a terrific brain. I think he's a fascinating character. I think people are going to get a kick out of what we've done with him."
In addition, Nolan addressed the fact that "The Dark Knight Rises" takes place eight years after the end of "The Dark Knight." He underlined that it's not a mysterious element of the movie, and said it will be explained early on in the exposition. Ultimately, it was a way to show that the sacrifices Bruce Wayne and Commissioner Gordon made at the end of "The Dark Knight" were worth the repercussions.
"For Batman and Commissioner Gordon, there's a big sacrifice, a big compromise, at the end of the 'The Dark Knight' and for that to mean something, that sacrifice has to work and Gotham has to get better in a sense. They have to achieve something for the ending of that film — and the feeling at the end of that film — to have validity," Nolan said. "Their sacrifice has to have meaning and it takes time to establish that and to show that, and that's the primary reason we did that. It's a time period that is not so far ahead that we would have to do crazy makeup or anything — which I think would be distracting — but it gave them something to get their teeth into."
Nolan went on to describe Bale's Batman as being a man "who has been frozen in this moment in time with nowhere to go." Theorists should have a field day trying to figure out what Nolan meant by that cryptic statement.
Are you excited for Bane to be "The Dark Knight Rises'" villain? Tell us in the comments section below or on Facebook and Twitter.