Happy Hanukkah: Eight Movies That Make Us Say 'L'Chaim!'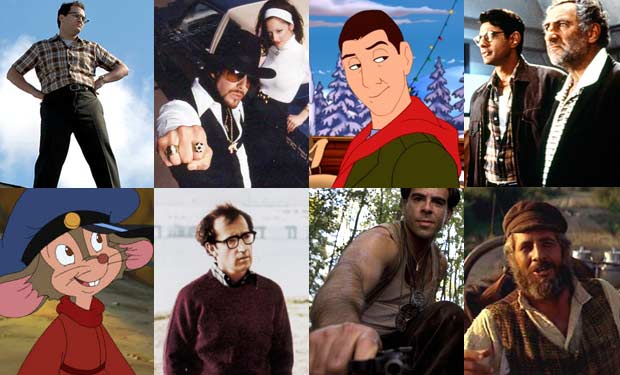 Posted by Terri Schwartz on
Grab your matches and slap on your yamaka, because as of last night Hanukkah is officially in full swing. In our opinion, there's nothing better to do after you light the menorah, eat your share of latkes and open countless presents than to sit down in front of the TV and watching a great movie with whoever you're sharing the holiday with.
Sure, there are probably countless lists out there spouting out the best Christmas movies for the season, but we here at IFC wanted to help you celebrate the great miracle of Hanukkah and the story of Judah Maccabee with all the Jews in your life. We've compiled a list of eight of our favorite movies that we feel honor the spirit of Hanukkah, albeit some in more convoluted ways than others. L'chaim!
---
"The Hebrew Hammer"
Without a doubt, the Hebrew Hammer is the best Jewish crime fighter to ever get his own Comedy Central movie. The Blaxploitation parody tells the story of Hammer (Adam Goldberg) as he fights to save Hanukkah from the evil son of Santa Claus (Andy Dick). And how does Damian Claus plan on corrupting the young, unsuspecting Jewish children? By brainwashing them through bootleg copies of "It's A Wonderful Life," of course. Because why not?
---
"A Serious Man"
Somehow we doubt that "l'chaim!" were the words Larry Gopnik (Michael Stuhlbarg) was thinking as "A Serious Man" came to a close, but we'll include his darkly hilarious story here anyways. The 2009 Coen brothers film follows a Jewish physics professor as his life progressively gets worse and worse and worse. And yet somehow we keep watching. I guess this makes us schmucks?
---
"Independence Day"
There's no one we would like to celebrate Chanukah with during an alien invasion more than David Levinson (Jeff Goldblum) and his father Julius (Judd Hirsch). So what if "Independence Day" took place over the Fourth of July? Julius managed to get in some of the most hilarious Jewish digs we've ever heard over the course of this movie, and to that we toast him with our glass of Manischewitz and include him on this list.
---
"Eight Crazy Nights"
Adam Sandler managed to create the most popular Chanukah song since "Dreidel, Dreidel" when he first released "The Chanukah Song" in 1994. After that, he became the poster boy for the holiday, and subsequently released a film slightly inspired by the song in 2002 called "Eight Crazy Nights." Sure, the way the film uses a single thumbtack puncturing eight tires on a bus to remind its main character of the miracle of Chanukah isn't the most religious thing we've ever head of, but the movie gets the general gist of the holiday across with some good laughs along the way.