Countdown to Top Ten 2K11: "Certified Copy"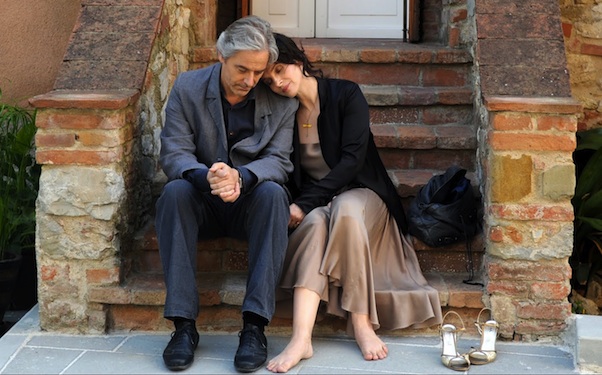 Posted by Matt Singer on
Countdown to Top Ten 2K11 is a column with one simple goal: to help you decide what films you need to see before making your end of the year top ten list. Each installment features my thoughts on a critically acclaimed 2011 movie, a sampling of other critics' reactions, the odds of the film making my own list, and the reasons why it might make yours.
This time we're covering "Certified Copy," the acclaimed new film from Iranian director Abbas Kiarostami. But is it a genuine work of art? Let's find out.
Movie: "Certified Copy"
Director: Abbas Kiarostami
Rotten Tomatoes Score: 88%
Plot Synopsis: The author of a new book about the meaning and importance of authenticity in art (William Shimell) joins a fan (Juliette Binoche) for a tour of the Italian countryside. But their relationship might not be as simple or as casual as it first appears.
What the Critics Said: "[Like] a middle-aged 'Before Sunrise,'" Owen Gleiberman, Entertainment Weekly
"A staggering amount of weighty, wide-ranging issues about connection," David Fear, Time Out New York
"A genuine triumph," Peter Howell Toronto Star
Were They Right? Well, I already used my own genuine pun in the intro, so I must agree with Howell; yes, this movie is a genuine triumph. Its conversational structure and beautiful European setting does call to mind Richard Linklater's "Before Sunrise" and "Sunset" films, though the questions and issues Fear mentions turn Kiarostami's work into something else entirely.
Describing what "Certified Copy" is about is tricky because the movie is constantly in the process of redefining what — and who — it is about. The characters remain the same but their identities are always in flux. Shimell's James Miller is in Italy for a reading of his new book about authenticity in the art world. Binoche's unnamed character attends with her son, but has to leave early. She passes an invite to Miller to stop by her local art gallery and he does. When he says he'd like some air, she offers to drive him to a nearby town. Along the way, they talk about Miller's work and theories about art, and how those theories relate to their own lives. But later in a key moment, Miller and the woman's relationship inexplicably changes in an instant. Suddenly, they're acting and talking to one another completely differently. Were they pretending before? Are they pretending now? Are both somehow true? As you can see, the notion of authenticity in art is being explored in "Certified Copy" in more than just Kiarostami's dialogue.
I'm always astounded by actors in movies like this. How do they know exactly what truth to play when the director doesn't want the audience to know exactly what that truth is? I don't know Kiarostami's direction to Shimell and Binoche, but whatever it was, it worked. Both actors are wonderful as they walk the fine line between intriguing mystery and frustrating obfuscation. Their job is made even more difficult by the fact that the film is essentially plotless and teeming with conversation. The focus is entirely on them. I don't know that "Certified Copy" could withstand a sequel in the same way that "Before Sunrise" became "Before Sunset," but I would love to see these two actors share the screen together again.
Even before the film hits its critical juncture point, there are hints of a deeper truth between the characters. Or maybe it's a deeper lie that binds them together. What makes "Certified Copy" so remarkable is the way it refuses to present itself as an argument, one way or another, on the issue of "fakes" or "copies" in the art world. Instead it presents a scenario as complex and ambiguous as the issue of "fakes" and "copies" in the art world. There are a million ways to interpret that issue, and there are probably a million ways to interpret this movie. Having only seen it once so far I can't be certain, but I have a feel you could watch "Certified Copy" a hundred times and see new things in it every time. And even then, you still wouldn't fully understand its secrets. But wouldn't you love to try? I mean, really.
Worthy of an Oscar Nomination For: Best Foreign Language Film, Best Original Screenplay (Abbas Kiarostami), Best Picture.
Chances of Making My Top Ten: As real as my marriage. …OR ARE THEY??? (Yes. They are. [And it is.])
It Might Make Your Top Ten List If: You enjoy films that are more interested in leaving you with questions than answers; you secretly like "F For Fake" more than "Citizen Kane;" you and your spouse get off on role playing in public.
Previously in Countdown to Top Ten 2K11
"The Descendants," directed by Alexander Payne
"We Need to Talk About Kevin," directed by Lynne Ramsay
"Point Blank," directed by Fred Cavayé
"The Arbor," directed by Clio Barnard
"Cold Weather," directed by Aaron Katz
"Meek's Cutoff," directed by Kelly Reichardt
"Margin Call," directed by J.C. Chandor
"Bill Cunningham New York," directed by Richard Press
"Hanna," directed by Joe Wright
Have a movie you wanted covered in a future installment of Countdown to Top Ten 2K11? Let me know on Twitter.