Joss Whedon's "Cabin in the Woods" gets a trippy new poster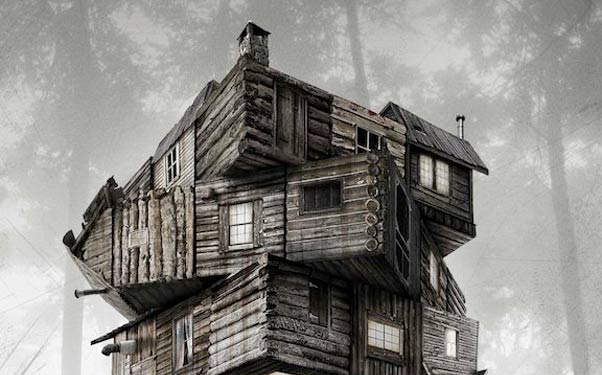 Posted by Terri Schwartz on
New studio, new promotional strategy. Joss Whedon's horror flick "The Cabin in the Woods" was filmed several years ago to be released by MGM in early 2010, but got put on the back burner as that company went through hell and back. But since Lionsgate rescued the project and pegged it for an April 13, 2012 release date, publicity for the flick is gearing back up.
It's interesting to see the different approaches each distributor is taking to the film, though. I personally was obsessed with the campaign ads MGM released for the flick back at Comic-Con 2009. With taglines like "if you hear a strange sound outside… have sex" and "if something is chasing you… split up" making fun of horror movie tropes, "The Cabin in the Woods" seemed like a refreshingly comic and self-aware horror movie, maybe along the lines of "Tucker and Dale vs. Evil."
But Lionsgate wants fans to know that this is a full-blown scary movie. Their new poster emphasizes the fact that the flick has a lot of twists and turns, and is unlike anything its viewers will expect. "You think you know the story" certainly isn't as clever as the previous taglines used, but it likely will appeal to a larger audience.
Whedon and "Alias," "Lost" and "Cloverfield" scribe Drew Goddard wrote the movie, which is largely what the flick is selling itself on. But it's interesting that neither MGM nor Lionsgate have opted to use the fact that the film stars "Thor's" Chris Hemsworth as a marketing tool. Maybe it's the fact that he shot the movie before he became a well-known star or maybe Lionsgate is just waiting until closer to the release date. Either way, this new poster is still pretty badass.
What do you think of Lionsgate's new marketing for "The Cabin in the Woods"? Tell us in the comments section below or on Facebook and Twitter.