Butt-Numb-A-Thon 2012 full report, from "The Hobbit" to "Cabin in the Woods"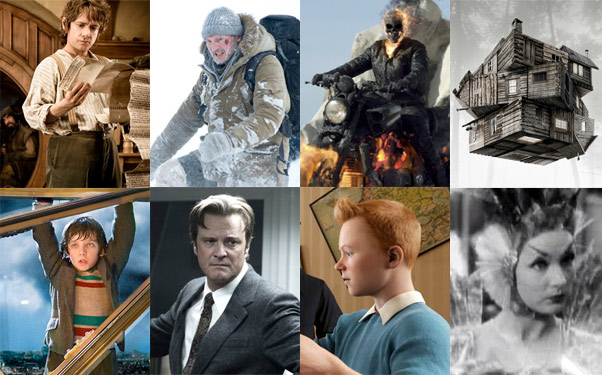 Posted by IFC on
The next round of trailers featured a nice gift, the first look at "G.I. Joe: Retaliation." It went by quickly, but I can tell you that Dwayne Johnson's muscles are bigger than ever, there's an epic ninja battle dangling from the side of a cliff-face and the sight of COBRA flags atop the White House brought squeals of delight from the BNAT crowd. The trailer was set to a techno version of the White Stripes' "Seven Nation Army," and concludes with Bruce Willis giving a "getting too old for this shit"-type joke. Yes.
This led to "The Adventures of Tintin", which, for me, was a second viewing. Some quickies on "Tintin": It is the best Steven Spielberg movie the of the year (and, yes, I've seen "War Horse"), it has the best dog performance of the year (and, yes, I've seen "The Artist"), and it has the best opening titles sequence of the year (and, yes, I've seen "The Girl With The Dragon Tattoo.") And while I have no proof of this, I am convinced that writers Steven Moffat, Edgar Wright and Joe Cornish, good nerds all of them, crafted a major sequence as an homage to the truck chase in "Raiders of the Lost Ark."
At this point the clock struck 2 am and it was time for a vintage film. It was Hayao Miyazaki's "Porco Rosso" – the Studio Ghibli animated feature about an Italian pig-man aviator/bounty hunter.
Now, some Miyazaki I like ("Spirited Away") and some I can't stand ("Ponyo") but I can't give you an honest appraisal of "Porco Rosso." I may've mentioned it was 2 am, I'd been there since 11:30 am and, well, this is when I hit the wall. I conked out. Snored through 75% of it. It was a gorgeous print (a brand new one, and this was the first time it was ever shown publicly) but, hey, I'm not going to lie and tell you I really watched it. I'm the last honest man on the Internet.
After a refreshing walk through the parking lot and another black coffee I was back in the game and ready for one of the night's highlights. We were among the very first people to see Drew Goddard's and Joss Whedon's teen horror flick "Cabin in the Woods." Mr. Knowles pleaded with us not to Tweet about this viewing ("Cabin" is going to have its official premiere at a major festival soon) but folks like myself were allowed dispensation to at least acknowledge the title. But here's the deal, "Cabin in the Woods" is not what you think. I don't want to say how or why, but it takes the horror film and spins it on its head. Not in a self-referential way, but in a very clever and unique way. I won't be the one to spoil just how it comes together, suffice to say that it escalates in an unpredictable manner, erupting into every nightmare you've ever had. And it's good to see Bradley Whitford again.
After this high high came a low low. It was time for the first look at "Ghost Rider: Spirit of Vengeance."
I can hear my mother's voice reminding me "if you don't have anything nice to say…." and I really don't. This movie is awful. It makes the first "Ghost Rider" look like "Iron Man." It makes Neveldine and Taylor's "Gamer" look like "Inception." It looks cheap, has a rancid script and thinks it a lot cooler than it actually is. There are pauses in the movie where we, the audience, are clearly supposed to fill in with thunderous applause. At our screening there was silence and eventually sighs.
Listen, I love Crazy Nic Cage. "The Bad Lieutenant: Port of Call New Orleans" is terrific. But this is just an embarrassment. He doesn't even muster the energy to be all that crazy. It is a movie made by people who "think" they understand what the midnight genre audience wants, but is actually clueless. That's my opinion, anyway.
But after this atrocity we were saved. It was time for the other big highlight, Joe Carnahan's new film "The Grey." It is the best thing he's ever done, mixing badass action, sphincter-tightening tension, unique characters and genuine drama. I held my breath, chewed my fingernails and even shed a tear.
The film concerns a group of end-of-their-rope Alaska pipeline workers surviving a horrific plane crash then getting picked off Irwin Allen-style by a pack of wolves. What follows is one of the finest and harshest survival movies, mixing plenty of "what the hell would I do?" situations and opportunities to mutter "holy crap." Also, and somewhat surreptitiously, there are some touching insights about faith and perseverance. Do I sound like I love this movie? I do, and so did the rest of the audience.
After we survived "The Grey" we all hopped on buses and rode from the Drafthouse to a nearby (true) IMAX screen. It was time to invoke "Ghost Protocol."
"Mission: Impossible – Ghost Protocol" is the best entry in the series since the De Palma original. It is basically one action sequence after another and it works. Brad Bird's first live action film has a very bare script. They are literally chasing after a briefcase most of the time. But the shooting style is clean and the sequences are creatively put together. There's dangling and hovering and the wearing of masks. And Paula Patton popping out of evening-wear. (Hey, is this movie 3D?) Plus, this time Simon Pegg has more to do.
We finally got to this movie after 10 am on Sunday, and I'll admit that I zonked out during the one scene of exposition. Tom Cruise gets in a car to let Tom Wilkinson introduce both Jeremy Renner and the plot of the film. I fell asleep the instant that scene started and woke up a few minutes later when the car blew up. Guess what? Even without knowing what the heck was going on, I was able to know what they heck was going on. Tom Cruise was running and climbing up buildings and getting caught in storms. It was great.
And so was Butt-Numb-a-Thon. It was an exhausting 27 hours. I ate so much fried food. I drank beer, then coffee, then beer, then coffee. I snored in public during a well regarded Japanese cartoon. I can't wait until next year.
Which of these films are you most looking forward to seeing? Let us know in the comments below or on Facebook or Twitter.