Butt-Numb-A-Thon 2012 full report, from "The Hobbit" to "Cabin in the Woods"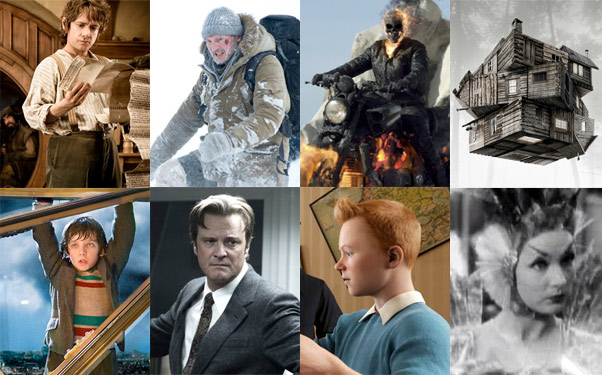 Posted by IFC on
When Harry Knowles, the Grand Mufti of movie bloggers, has a birthday party he does it up big. It starts with the Internet's most die-hard cinemaniacs filling out an elaborate application for a coveted, assigned seat at Austin's Alamo Drafthouse Theater, and ends with intense film junkie bragging rights.
The event, appropriately called Butt-Numb-a-Thon, is a (more than) 24-hour movie marathon mixing hard-to-find vintage prints and first looks at forthcoming films. In years past, attendees have had sneak peeks at movies like "King Kong", "Kick-Ass" and "Hobo With A Shotgun", as well rare opportunities to see flicks like Disney's "Song of the South" or Orson Welles' "Chimes at Midnight."
This year, after a Friday night kick-off party at an elaborate pinball arcade, the lucky few exchanged tips on how long to wait until drinking coffee (everyone has their own theory) and tried to guess the line-up. This was my second BNAT, but the first one is merely a haze of nachos, laughter and beer breath. I still felt like a noob going into this, and, frankly, a little nervous. It was Saturday at 11:30 am and I wouldn't be out again til 1 pm on Sunday.
Here's a rundown of went down.
---
Readers of AintItCoolNews (Knowles' site) know that contributor Eric "Quint" Vespe has been embedded with Peter Jackson's production of "The Hobbit." As such he could not be there, so offered a "happy birthday" video of messages from the set. Sir Ian McKellan appeared in costume as Gandalf the Grey and, through the magic of cinema (and some pyrotechnics in the theater) Vespe appeared in the flesh. A nice reunion for he and Knowles, but for the rest of us he brought the first ever peek at the trailer for "The Hobbit: An Unexpected Journey." As a gag, he handed the hard drive containing the trailer to frequent BNAT attendee Elijah Wood to bring to the projection room, adding "keep it secret, keep it safe."
We were asked not to get too specific with the description, but hearing the music and seeing The Shire I was surprised at the flood of emotions that hit me. It was like seeing old friends. (And something to look out for: a band of Dwarves sing. It's a thing of beauty.)
The Alamo Drafthouse is known for the fun programming that happens between the films, and Butt Numb-a-Thon is no different. In addition to relevant trailers, this year the audience was treated to one-frame blasts of the movie "Teen Wolf." The subliminal images of a furry Michael J. Fox's slam dunks was the gift that kept on giving. Threatening to play "Teen Wolf" is a recurring gag, and this year's 13th anniversary was actually called BNAT13Wolf on Twitter.
The first feature to roll was Martin Scorsese's "Hugo." An odd choice, perhaps, as it is currently out in theaters, but considering its love of cinephilia and invitation to "dream together" it couldn't be more appropriate.
This led directly to the only 35mm print in the United States of George Melies' ninety-nine year old sci-fi/fantasy film "A Trip To The Moon." Watching it after "Hugo", while you are still holding back the sniffles and willing to take a bullet for Melies, gives the short film an extra jolt of the warm and fuzzies.
The next feature was the event's most obscure, a 1930 sci-fi musical (yes, musical) called "Just Imagine." You've never heard of it, but you've seen bits of it. . .in other movies. Many of the sets and props were re-used in sci-fi flicks like James Whale's "Frankenstein" and the Buster Crabbe "Flash Gordon"/"Buck Rogers" serials.
It's not by any stretch a good film – it a generic Depression-era picture grafted onto sci-fi. Characters say things like, "the only way I'll be fit to marry her is if I'm the first man to explore Mars!!" Still, there are some odd, subversive jokes (like a baby vending machine) and a surprisingly blunt reference to Henry Ford's anti-semitism. If you like quips about Prohibition while rockets are zipping through the heavens, this is a movie for you.
After "Just Imagine" was "Tinker, Tailor, Soldier, Spy." I'd seen it already in New York, but it is good to be reminded every now and again that not everyone lives in New York. I liked the picture the first time, loved it the second time. (This is precisely how I felt about Thomas Alfredson's previous picture "Let The Right One In", so maybe this is a trend to try and squeeze two ticket prices out of people.)
I strongly recommend this movie, and seeing it again confirms that I need to get out an eraser and adjust my end of the year top 10 list. The photography is gorgeous and the script is like a wind-up mechanical automaton (they borrowed it from "Hugo.") "TTSS" came with a video message, and hearing Gary Oldman say the words "Butt Numb a Thon" with just trace elements of confusion and disdain got one of the biggest laughs of the night.
This led right to "Sherlock Holmes: A Game of Shadows." Reaction to this picture was mixed. I liked it for the most part. It's better than "Pirates 4", maybe not as good as "National Treasure 2." I give the action sequences points for a lot of visual panache, even if they don't really add up to much. For example, there's a scene where our heroes are running in the woods and getting shot at by canons. It takes the "Matrix" "Bullet-time" effect and cranks it up to a remarkable degree. But it is empty. If feels like Guy Ritchie got hipped to a new technique, was excited to use it, but never bothered to put any depth to the characters or story.
I did not actively dislike "SH: AGOS", but it is desultory. Jared Harris' Moriarty is an evil genius because we're told he is, not because of anything we see him do. I'm pretty sure I saw Noomi Rapace's big Hollywood debut, too, but other than a moment of sitting in an unladylike pose in her Gypsy gown, I can't recall a thing she did or said.
Next was another vintage film, something unavailable on DVD. "The Beast With Five Fingers" stars Peter Lorre at his most bugnuts Peter Lorre-ish, working as one of a number of "kept people" in the service of a rich eccentric in a small Italian village. The other lead is Robert Alda, a composer, small time grifter, lover and all-around good guy who, when the benefactor dies, would like to see the fortune transition smoothly. Some greedy American cousins look like they're gonna' get in between Lorre and his Astronomy books, so that's when the hallucinations and killings start.
The titular "five fingers" are a living hand that runs amok through the compound like an angry version of Thing from "The Adams Family." The performances (and one-handed classical music selections) are gloriously over-the-top, making this 1946 selection a fun B-picture.