Brit Marling compares upcoming films "The East" and "The Company You Keep" to Occupy protests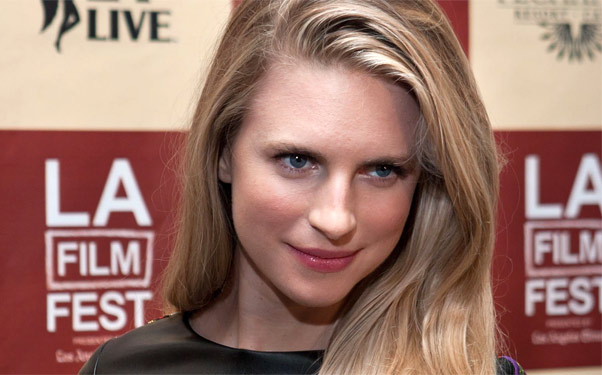 Posted by Terri Schwartz on
Depending upon the outcome of the Occupy Wall Street protests occurring across the nation, we'll likely see Hollywood's take on the 99 percent's uprising at some point in the near future. But while films like "The Dark Knight Rises" considered attempting to tap into the civil unrest, at least one upcoming indie has already been working on capturing the activists' sentiments.
"Sound of my Voice" star/co-writer Brit Marling and director/co-writer Zal Batmanglij have reteamed in their respective roles for the upcoming thriller "The East." The film tells the story of a contract worker named Sarah (Marling) who is given the job of infiltrating an anarchist group, but ends up finding herself aligning with its beliefs and falling for its leader (Alexander Skarsgard). IFC caught up with Marling recently while she was promoting the DVD release of her Sundance darling "Another Earth," and she acknowledged that "The East's" upcoming release likely couldn't be at a more timely occasion.
Interestingly enough, Marling's other upcoming film, Robert Redford's "The Company You Keep," also has to deal with activist movements. In the interview, she addressed her own passion for activism and whether she thinks these two movies about such a hot-button subject will end up causing any controversy.
—
IFC: "The East" seems like it's pushing the envelope with its extremism and environmental activism. Do you think that it's particularly timely with all the other activist events going on right now, like Occupy Wall Street?
Brit Marling: Yeah, I think we were really astounded as we were writing it, things kept happening that were literally things that were in the movie or things that were themes or feelings in the movie. I remember when the BP Oil spill happened we were like, oh my gosh, this movie is so prescient. And then when WikiLeaks happened, we were like, oh my god, this movie is so prescient. And then, you know, when Occupy Wall Street happened, we were like, this film needs to just enter the world already.
I think that when you're writing, you're really just sticking your hand out into what people are thinking and feeling, and certainly I think generationally there's a pretty big crisis in our generation of like, what is going on? The design of the world order makes no sense. Things keep falling apart. I mean, how long are we going to continue to ignore that the structure of things are unsound? When are we going to stand up and be accountable for the way we live our lives and like do things differently? Maybe even erratically differently. And I think Occupy Wall Street is filled with that unrest and I think, I don't know, it will be nice for this movie to enter this conversation.
I think it's something people want to talk about and, I don't know, hopefully it will be a useful note in the conversation. I don't know. We hope that anyway.
Brit Marling says Alexander Skarsgard isn't "recognizable" in "The East"
IFC: It sounds like it's something you're pretty passionate about. Are you particularly attached to the idea of activism? Is that something you believe in?
BM: I guess what I believe in is, you know, life in the modern world can really lull you to sleep in a way. Things in the first world are pretty comfortable. You know, like hotel rooms and movie theaters and malls and cars on highways. The whole experience is pretty seamless, in and out of airports. But there are so many things that are just shocking and astounding that we just continue to ignore. Especially just the literal liquidation of the environment. We have oceans falling apart and reefs crumbling.
We're alive in a really strange time in which we seem to be on the precipice of a crisis, certainly in terms of like where things are in the environment, and yet not fully dealing with it in our every day lives and the way that we live them. I don't know what it would take for things to change dramatically, but I think certainly I believe in attempting to be awake to that and to hopefully do something. Do something in whatever way one can to like be a part of the movement for changing things or trying to make things better.
IFC: It's interesting to me that the other film you're working on, "The Company You Keep" with Robert Redford, also involves extremism with his character being a part of the Weather Underground. Do you think that either of these films are going to stir up any controversy once they get released?
BM: I hope they do, but even more than controversy. I think something really interesting happened when Obama was elected, which is the millennial generation felt for a moment that like real change was possible, and they like galvanized themselves in a way that had never been done before. Everybody's pretty focused on their own career, their own life, the way in which their life is unfolding, and I dropped everything I was doing and got on plane for Ohio and was like knocking on doors in Columbus, Ohio. And I think it was because everybody felt like, well here's a way in which things can really be different.
I think people are looking for that. I don't know that either one of these movies will do that but certainly like Occupy Wall Street and what's happening there and what's happening all over the world, there are stirrings of it. You feel that the sense is in the air, and it just hasn't fully become organized. Or the ideas behind which real change can happen [haven't] been fully solidified. It'd be cool if both of these movies sort of got people talking about these things and not just retreating into their lives, which can be so consuming.
Are you intrigued by either of Marling's upcoming projects because of their political statements? Tell us in the comments section below or on Facebook and Twitter.