The best genre movies of 2011, part 2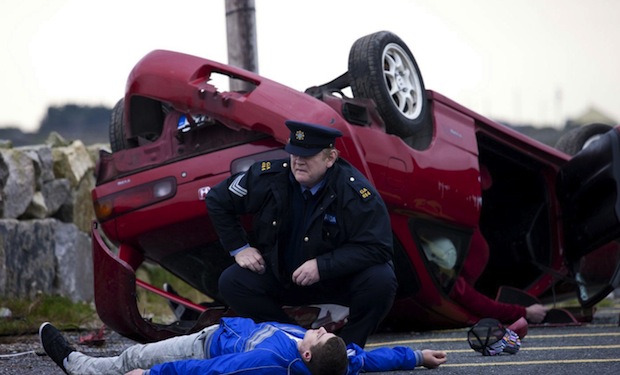 Posted by Matt Singer on
Continuing our list from yesterday here are five more of the best genre movies of 2011. Click over for our picks for the best romance, Western, horror film, legal thriller, and comic book movie. Today it's time for the best spy movie, cop movie, sports movie, mystery, and science-fiction. Let's do it.
The Best Spy Movie of the Year
"Mission: Impossible – Ghost Protocol" (In IMAX)
Directed by Brad Bird
Even fans of "Tinker Tailor Soldier Spy" would admit the film is more of a character study about spies than a true spy movie. For real genre thrills, I'm going with something bigger: much bigger. "Mission: Impossible – Ghost Protocol" delivered everything we've come to expect from this series — high-tech gadgets, ferocious fights, Tom Cruise running — on a grander scale than ever before. Director Brad Bird's IMAX action scenes, especially one dazzling, dangling sequence atop the tallest building in the world, were absolutely stunning. Badass Digest's Devin Faraci makes some excellent observations about the gaping holes in the film's story. So why isn't anyone talking about them? Because people get so caught up in "Ghost Protocol"'s enormous imagery they don't have time to think.
---
The Best Sports Movie of the Year
"Warrior"

Directed by Gavin O'Connor
This might be the most inexplicable flop of the year. "Warrior" was a shameless crowd-pleaser, with twice the underdogs of your typical underdog sports movie, but for some reason the crowds never showed up to be pleased. Maybe the lack of a bankable star kept people away, but the lack of a bankable star meant two very good young actors, Joel Edgerton and Tom Hardy, got to play the lead roles of Brendan and Tommy Conlon, estranged brothers who both enter the same mixed martial arts tournament in search of a big cash prize. The final fight felt seriously anticlimactic and Nick Nolte goes a bit overboard in his alcoholic suffering at times, but the rest of this movie is just about perfect. Any sports movie would be blessed to have a lead character as good as Hardy's or Edgerton's. This one has both. If I had to bank on one 2011 movie slowly becoming a massive word-of-mouth hit on DVD and Blu-ray, I'd pick "Warrior." It could easily become this decade's "Shawshank Redemption." Read my full review here.
http://www.youtube.com/watch?v=54vrgCP5nlc
---
The Best Cop Movie of the Year
"The Guard"
Directed by John Michael McDonagh
The buddy cop movie has had its up and downs in recent years but it rose from the ashes like a phoenix who was getting too old for this shit with the comedy "The Guard." Brendan Gleeson delivers a brilliant performance as Sgt. Gerry Boyle, a small town Irish cop who stumbles, accidentally and disinterestedly, onto a drug smuggling ring. He teams with an American FBI agent (Don Cheadle, whose Southern accent is the one weak spot in the film) and together they make a classic pair of mismatched partners. "The Guard" was written and directed by John Michael McDonagh, brother of "In Bruges" filmmaker Martin McDonagh. I suspect if you liked the latter, you'll dig the former, which has a similarly picaresque setting and dark sense of humor. Listen to my full review here.
---
The Best Mystery of the Year
"Cold Weather"
Directed by Aaron Katz
Mysteries are all about finding things in unlikely places and the DIY, improvisational genre of mumblecore is probably the last place in moviedom you'd expect to find a good whodunit. Yet here is Aaron Katz's "Cold Weather," a very successful experiment in marrying the off-the-cuff mumblecore aesthetic with the rigid structure of a drawing room mystery. A college dropout with an interest in forensic science and Sherlock Holmes novels moves back home to Portland and gets a job in an ice factory. An old flame comes to visit then seemingly disappears. Was she kidnapped? Or even murdered? While Hollywood turned Sherlock Holmes into a six packed, speed ramping action hero, Katz proved you don't need any of that to tell a compelling story. All you need are a few interesting characters, one good brainteaser, and a pipe. Read my full review here.
---
The Best Sci-Fi Movie of the Year
"Attack the Block"
Directed by Joe Cornish
There was plenty of callbacks to old movies in "Attack the Block," including 80s gang flicks like "The Warriors" and "Streets of Fire," but the film was far more creative than your typical nostalgia pastiche. Even the design of the "gorilla-wolf" aliens that crash into a giant South London housing complex was refreshing (if something with glowing, razor-sharp teeth and a hunger for human flesh can be termed "refreshing"). Director Joe Cornish's dazzling debut film was light on science but heavy on scares and humor, and it featured a cast of charismatic misfit kids who made the Goonies look like the Muppet Babies. Buried beneath the laughs and scares, there are even some powerful themes about personal responsibility and the dehumanizing nature of life in the projects. Believe, bruv: this movie deserved better than its $1.0 million domestic gross. Read my full review here.
---
Back to PART 1 of The Best Genre Movies of 2011.
What was your favorite spy movie, cop movie, sports movie, mystery, and sci-fi movie of the year? Tell us in the comments below or write to us on Facebook and Twitter.