The best genre movies of 2011, part 1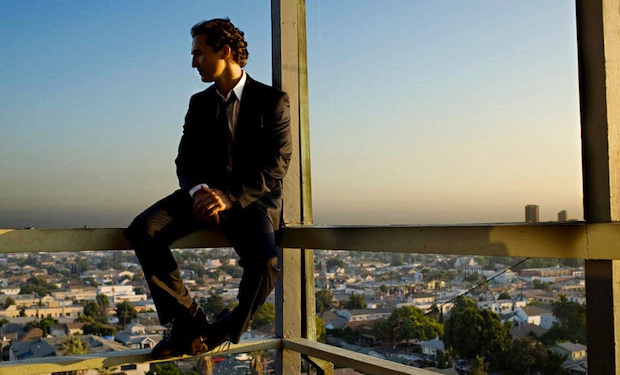 Posted by Matt Singer on
You've already got my list of the top ten films of 2011, but there were a lot more than just ten good movies this year. It's time to highlight the genre standouts, the silly, scary, exciting, emotional stuff that doesn't get the critical praise it deserves, especially at this time of the year when it's all about gloss, and prestige, and actors eating half their body weight in ice cream and calling it "artistic commitment." (Don't you wish you had a job that let you call your obsession with Coffee Heath Bar Crunch art? Me too.)
This is part one of my list of the best genre movies of 2011. I've picked out a whole bunch of genres, from Western, to romance, to horror, and selected one exemplary entry for each. Be sure to come back tomorrow for 2011's best buddy cop movie, best comedy, best sports movie, and more. Until then, here are our first five genre standouts.
The Best Western of the Year

"Blackthorn"
Directed by Mateo Gil
"Meek's Cutoff" was the critical darling of the Western genre this year, but Kelly Reichardt's bleak account of a doomed wagon train was too often an exercise in frustration to my taste. For a more satisfying frontier throwback, seek out "Blackthorn," a sort-of-sequel to "Butch Cassidy and the Sundance Kid" starring the wonderfully dyspeptic Sam Shepard as an aging Cassidy who sets out for the United States after decades in hiding in Bolivia. Along the way he encounters a man with some stolen money, which leads to plenty of double-crosses, chases, and shootouts, a new partnership to mirror the one he had with Sundance, and the occasional masculine contemplation of the meaning of life over a plate of campfire beans. "Blackthorn"'s ending is almost as disappointing as "Meek's Cutoff"'s but you know what they say about focusing on the journey rather than the destination. This is a really interesting journey. Read my full review here.
---
The Best Horror Film of the Year
"Insidious"
Directed by James Wan
Speaking of disappointing endings, I wouldn't for one minute pretend that the last fifteen minutes of "Insidious" — a haunted house movie from the writer and director of "Saw" — doesn't completely fall apart after one too many predictable plot twists and a little too much unpredictable silliness. Until then, though, this story of troubled married couple and their spooky encounters in their new home on the corner of Hellmouth Drive and You Guys Are Totally Fucked Boulevard is absolutely terrifying. Every scene with Lin Shaye as the paranormal investigator called to cure the couple's comatose son is killer. Not to be watched in a house with creaky floorboards or oversized grandfather clocks. Read my full review here.
---
The Best Legal Thriller of the Year
"The Lincoln Lawyer"
Directed by Brad Furman
Is "The Lincoln Lawyer" the most accurate legal thriller of the year? My night school law degree hasn't come in the mail yet, I'm guessing probably not. But who cares? The broadcast television airwaves are littered with dozens of weekly hours of dry, by-the-books law shows; if you want pedestrian legal thrills, go there. If you want a batshit crazy story with big, fun plot twists and a deliciously evil villain, check out this sturdy adaptation of the novel of the same name by Michael Connelly. I can't tell you who you the villain is because that would spoil some of the surprise, but I can say that Matthew McConaughey is in excellent form as Mickey Haller, a slick, smart Los Angeles attorney hired to defend a real estate magnate's son from charges of rape. I walked into this movie almost at random on a day when I was stranded in Manhattan with several hours to kill. I walked out two hours later absolutely delighted by one of the most purely entertaining movies I saw all year.
---
The Best Romance of the Year
"Weekend"
Directed by Andrew Haigh
Two men meet in the bar on a Friday night and have a one night stand. The next morning, they discover a connection deeper than physical attraction but for reasons best left unexplained, their relationship has to end when the weekend does. This sweet, sad, and painfully accurate film about fleeting love evokes memories of David Lean's "Brief Encounter" and Richard Linklater's "Before Sunrise." Director Andrew Haigh shot the film in practical locations with long, uncut takes because, he told me, he wanted "Weekend" "to feel almost like a documentary…you, as the audience, were almost sitting in the corner of the room just watching this relationship unfold." He succeeded. Good luck trying not to cry as you watch this relationship unfold during the big climactic scene in the train station. You'll need it. Read my full interview with Haigh here. "Weekend" is currently available on Netflix Watch Instantly.
http://www.youtube.com/watch?v=LkC7xHAfxm4
---
The Best Comic Book Movie of the Year
"X-Men: First Class"
Directed by Matthew Vaughn
Technically "The Adventures of Tintin" would probably get my vote for the most accomplished comic book adaptation of the year. But I've never read any "Tintin" comics, and neither have most of the people who'll be seeing it in the United States, which means Steven Spielberg didn't have to contend with angry, judgmental fanboys freaking out over his every creative decision. Matthew Vaughn, on the other hand, had plenty of nerds looking over his shoulder as he made the fifth film in the X-Men franchise. He also had to retrofit a new story to fit within the framework of old comics and movies, deal with the fact that the previous "X-Men" prequel, "Wolverine," was one of the worst comic book movies ever, and crank out the entire project from start to finish in less than a year. Somehow, he made it work. Michael Fassbender was such a badass antihero as the young, Nazi-hunting Magneto he suggested an avenue for a prequel to this prequel. Listen to my full review here.
---
On to PART 2 of The Best Genre Movies of 2011.
Got different picks for the best Western, horror film, legal thriller, romance, and comic book movie of the year? Let us know in the comments below or write to us on Facebook and Twitter.