New "Battleship" trailer is chock-full of aliens, explosions and Rihanna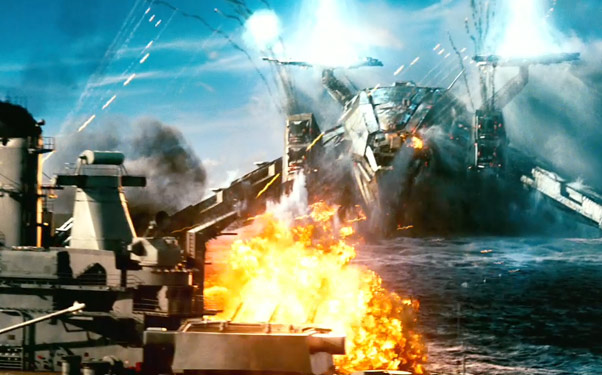 Posted by Terri Schwartz on
Don't expect a "You sunk my battleship" in this end of the woods. A new trailer for "Battleship" is part "Transformers," part "Armageddon," part "Independence Day" and part "Halo," making the Peter Berg-directed flick looks like a big budget end-of-the-world romp that we can sort of get behind.
It definitely shows a new aspect of the film that wasn't broadcast in the first "Battleship" trailer. If that one was all about the mystery, then this is all about the action. And action there will be. Buildings being torn apart, helicopters being sliced in half, and badass transforming battleships: they got it all.
As someone who has (just recently) been passionately watching episodes of "Friday Night Lights," I did get a kick out of seeing Berg reunite his Dillon Panthers Taylor Kitsch and Jesse Plemons with one another. But the real show-stealer in this trailer is Rihanna, who makes her acting debut. While she doesn't get her face blown around in slow-mo like Alexander Skarsgard does, she does get to make a voice-cracking scream that is actually pretty freaking badass. Though how he father knew there were aliens hidden below the ocean ready to blow Earth's brains out, we have no idea.
Everyone from Brooklyn Decker to Liam Neeson to Kitsch get a lot more screentime in this trailer, which is nice. But it was exciting to actually get to see the aliens that humanity will be battling in the film, who look a hell of a lot more intimidating than the ones Kitsch will be going up against in "John Carter." We're digging the "Halo" vibe we're getting from the actual aliens, and scratching our heads over how the humans are supposed to defeat these guys.
"Battleship" hits theaters on May 18.
What did you think of the new trailer? Tell us in the comments section below or on Facebook and Twitter.