"The Avengers" new stills show Cap, Thor and Iron Man in action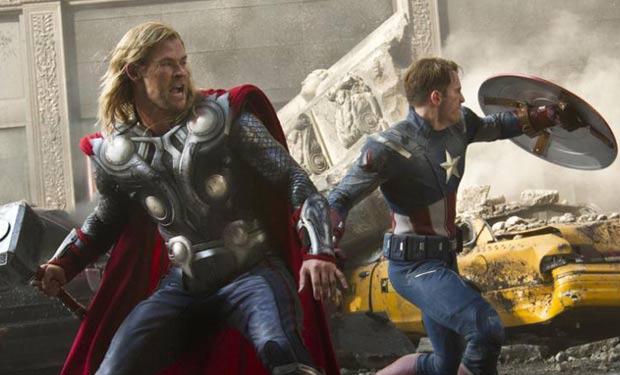 Posted by Terri Schwartz on
In less than five short months, "The Avengers" will assemble on the big screen for the first time. Until then, fans will have to be satisfied with the deluge of character banners and still images that Marvel has been releasing in anticipation of the movie.
The latest stills feature three of the main four Avengers protecting the Earth from impending evil. Sorry Hulk, you missed the boat on this one. The first is one that looks awful similar to this shot of Captain America and Thor. We might be going out on a limb to say that today's still probably occurs after whatever the Norse God and first Avenger are staring at hits the Earth, but it seems like a pretty safe assumption.
The second image gives fans one of their first clear looks at Tony Stark decked out in his Iron Man suit in this film. As Marvel is all about consistency whenever possible, it's unsurprising that Stark's suit looks very similar to its incarnations in "Iron Man" and "Iron Man 2." Maybe upcoming pictures of the full suit will show any alterations the wealthy genius has made on the armor.
"The Avengers" stars Robert Downey Jr, Chris Evans, Mark Ruffalo, Chris Hemsworth, Scarlett Johansson, Jeremy Renner, Tom Hiddleston, Stellan Skarsgard and Samuel L. Jackson. It is slated to hit theaters on May 4.