"The Avengers" Russian trailer delivers more action, Black Widow and Bruce Banner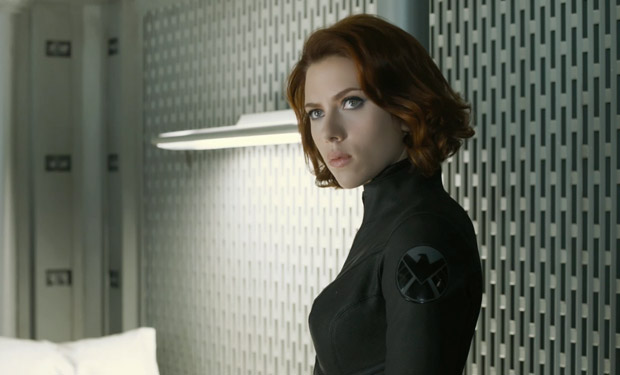 Posted by Terri Schwartz on
With "The Avengers" now only a little more than five months away from its May 4 release date, we're ready to take whatever teasers we can get for the upcoming Marvel superhero ensemble flick. That means that, when the Russian version of the trailer hit the web, we were eager to pore over every frame for whatever new footage — however meager — was stuffed inside.
Fortunately, the trailer did not disappoint. While we're not fluent in Russian and thus couldn't understand any of the new dialogue, it was clear that there's a marked focus in this video towards one character in particular: Scarlett Johansson's Black Widow. That's probably because Black Widow's pedestrian alterego is Natasha Romanoff, a Russian-born edition to the Avengers canon, but it also could just be because Johansson looks damn sexy in that Black Widow costume.
Also new to the trailer is the scene that Tom Hiddleston was talking about yesterday when he referenced tossing Robert Downey Jr.'s Iron Man out a window. "All I can tell you is he deserved it," Hiddleston promised. "He's got a sharp tongue, that Tony Stark."
If we're not mistaken, there's also going to be some fighting going on internally between the Avengers. We got a sneak peek at their squabbling in the first trailer released, but if you look carefully you can see that things actually come to fisticuffs in the flick as well. Thor can be seen coming down on Captain America with his hammer in a nighttime scene that, unfortunately, we don't get too much context for. Still, it looks like a showdown worth keeping an eye out for.
What did you think of the new "Avengers" footage?? Tell us in the comments section below or on Facebook and Twitter.