"The Avengers" assemble in newly released banners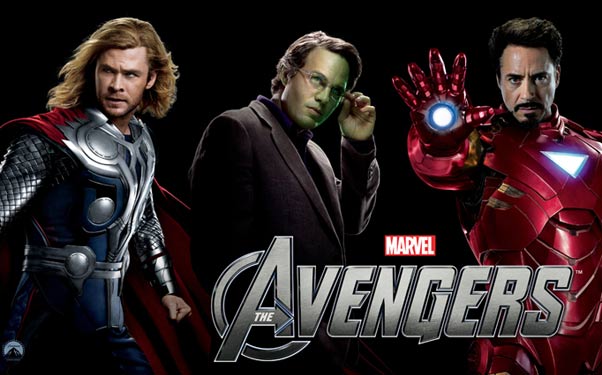 Posted by Will Weinand on
With the release of Joss Whedon's "The Avengers" just a little over four months away, you can expect the drumbeat of super hero fanaticism to grow as the film nears its premiere. And who are we to not jump on the bandwagon?
With that in mind, Marvel has released two new banners to promote their upcoming blockbuster featuring the first team-up of their non-mutant super-heroes. While some of the images used in the banner will look familiar from the previously released round of promotional images, these do feature new poses for Robert Downey Jr.'s Iron Man and Scarlett Johansson's Black Widow and none of the Avengers are obscured with the insignia as an overlay.
One interesting thing to note is the arrangement of the eight cast members between the two banners. Marvel has split Cap, Thor, Iron Man and Bruce Banner (seemingly transforming in to the Hulk) in to one group, and Nick Fury, Hawkeye, Black Widow and Loki in to the second. Shouldn't Captain America be with the enlisted soldiers? Why aren't the Asgardians together?
If it's super-humans separated from mortals with exceptional abilities, wouldn't Tony Stark be better suited to stand with the government agents that he's spent two of his own films collaborating with? Is there a secret message in this suggesting Loki is in collusion with S.H.IE.L.D.?! Or maybe it's just about the most marketable properties all being grouped together. You decide (but it's probably just the marketing thing).
Two notable absences from the line-up are Clark Gregg's Agent Coulson and Colbie Smulders' Maria Hill, but hopefully we'll get more of them as we get closer to May.
What are the things you're most excited about seeing in the upcoming movie? Tell us in the comments below or on Facebook or Twitter.