Street artist Anthony Lister talks about his awesome "Rise of the Planet of the Apes" mural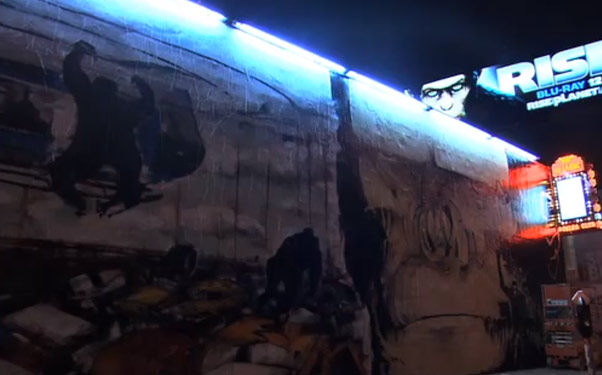 Posted by Brian Jacks on
"Rise of the Planet of the Apes" was a stand-out film of 2011, and judging from artist Anthony Lister's impactful Los Angeles-based mural dedicated to the movie, he shares the same sentiment. Granted it was done in coordination with 20th Century Fox, but still; the resulting painting demonstrates a strong affinity for the pic.
Lister completed the piece — located along famed Melrose Ave. — over three nights, and according to him, it was the shapes of the apes in particular that led to his inspiration.
"I have been a fan of 'Planet of the Apes' films since I was a little kid, and 'Rise of the Planet of the Apes' was one of my favorite movies of the year," Lister wrote to IFC. "I'm an adventure painter so I need to bring out the shapes that are already calling me. There are many adventure painters here in LA right now, like these apes, struggling to live the way they want to live. So I found myself scratching on the wall in the dark and the concept came to me; speaking for the apes and the apes rising. "
Check out the sizzle reel of Lister's creation below, and then click here to see the complete time-lapse footage filmed over three days. "Rise of the Planet of the Apes" arrived on DVD and Blu-ray yesterday.
What do you think of Anthony Lister's "Rise of the Planet of the Apes"-inspired mural? Let us know below or on Facebook or Twitter.