Anne Hathaway talks "The Dark Knight Rises," Nolan's Gotham City and Catwoman's costume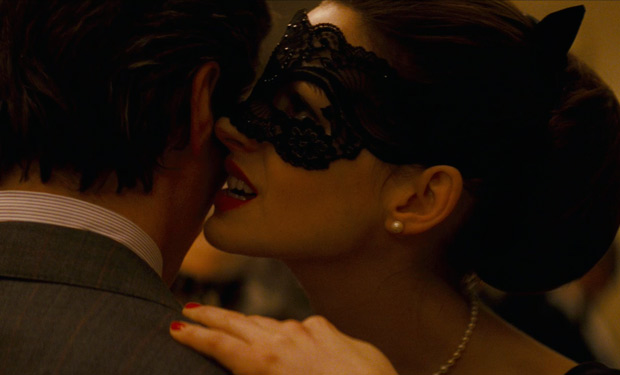 Posted by Terri Schwartz on
Ever since the new trailer for "The Dark Knight Rises" premiered and had a depressingly small amount of screen time for Anne Hathaway's Selina Kyle, we've been in need of a good Catwoman fix. Fortunately, The Los Angeles Times is here to deliver. In a story set to run in Sunday's newspaper, Anne Hathaway offers a spoilery look into her take on the franchise.
"What's come before doesn't limit or even affect this new version," Hathaway said in reference to other incarnations of the character. "It doesn't affect me because each Catwoman – and this is true in the comics as well – she is defined by the context of the Gotham City created around her. Catwoman is so influenced by Gotham and whoever is creating Gotham at the time. Michelle Pfeiffer's Catwoman was informed by Tim Burton's Gotham and Eartha Kitt was informed by Adam West's Gotham. You have to live in whatever the reality of the world is and whatever Gotham is."
Bottom line: screw the haters! Hathaway said she did a lot of research for the role after she got cast and is glad that the Catwoman/Batman story has come a long way from their initial meeting (Bruce Wayne's words to Selina Kyle: "Careful, claws in or papa spank"). Hathaway spent a lot of time watching videos of Hedy Lamarr, the actress credited with being the inspiration for Catwoman, and said that she really started focusing on her breathing after watching some of Lamarr's old films.
But what Hathaway likes best about Christopher Nolan's Batman universe is that everything has its place. For instance, instead of having non-functional fake cat ears to establish her as Catwoman, Hathaway's costume includes a set of goggles (seen in the first picture released of her from the set) that, when flipped up, resemble feline ears. She also has a set of claws on her in the form of serrated stiletto heels. There's nothing like form meeting functionality.
"I love the costume," Hathaway said in the interview. "I love the costume because everything has a purpose, nothing is in place for fantasy's sake, and that's the case with everything in Christopher Nolan's Gotham City."
At the end of the day, Hathaway said she credits Nolan for putting together an impressive final chapter of his Batman saga.
"Gotham City is full of grace," she said. "You look at Heath's performance as the Joker, there was a lot of madness there but there was also a grace and he had a code there. There's a lot of belief and codes of behavior in Gotham and my character has one, too. A lot of the way she moves and interacts with people is informed by her worldview. Chris has given us all such complex, defined, sophisticated worldviews that it's just a matter of doing your homework and getting underneath the character's skin."
Are you looking forward to seeing Hathaway's take on Catwoman? Tell us in the comments section below or on Facebook and Twitter.