Pictures from "The Amazing Spider-Man" shoot in Los Angeles surface online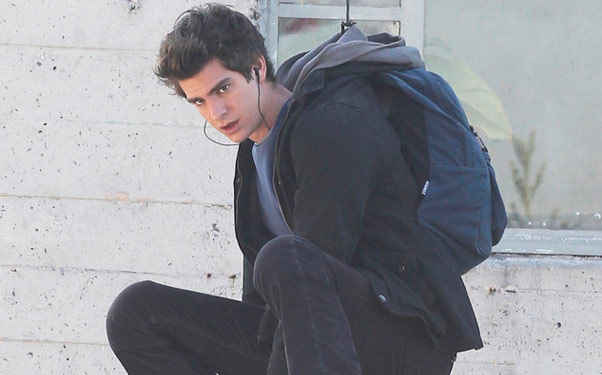 Posted by Terri Schwartz on
"The Amazing Spider-Man" is back in Los Angeles doing some additional shooting, and some new set pictures posted to the web show leading man Andrew Garfield hanging around.
Hanging around on lampposts, that is. It looks like he was shooting some scenes where he was slinging around the city in his regular clothes, sporting some pretty sweet kicks and listening to music. Wonder what his playlist is?
Apparently life doesn't entirely imitate art, as Garfield needs a wire to hold him in place on top of the lamppost. Screw safety! Spidey is supposed to have balance skills enough to do that. At least Garfield is dating his onscreen girlfriend Emma Stone in real life, so he's doing some things right. We hope he also wears his Spidey suit under his clothes at all times just in case he needs to stop crime and safe some innocents.
Rumor has it that they will be filming a big concert scene tonight in LA as well.
"The Amazing Spider-Man" also stars Denis Leary, Martin Sheen and Sally Field. It's due out in theaters on July 3.
Are you excited for "The Amazing Spider-Man"? Tell us in the comments section below or on Facebook and Twitter.