"The Adventures of Tintin," reviewed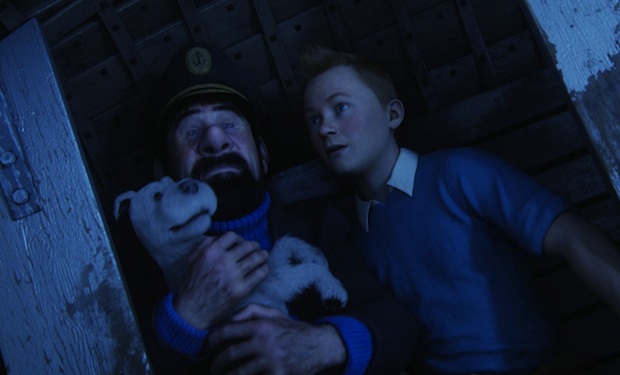 Posted by Matt Singer on
Steven Spielberg loves film. And not just movies, but the actual, physical medium of light projected through celluloid. He's one of the last directors alive who still edits his work by painstakingly cutting and pasting strips of film instead of manipulating files on a computer. He doesn't seem like the type of guy to embrace motion-captured animation. After all, there's no film in "mocap." There are barely even cameras: just actors in an empty room and computerized sensors that record their movements.
And yet somehow Spielberg, the analog stalwart, has brought out the best in this new filmmaking technology. For years I've watched mocap animated movies in a state of puzzlement: not quite live-action, not quite animation, motion capture seemed to offer only the worst of both worlds: characters bound by real-world physics and hampered by weirdly lifeless faces and eyes. It's worked at times as a tool of live-action filmmakers, but almost always in more fantastical settings (see James Cameron's "Avatar"). Whenever it's been called to approximate the real world, the previous results have been dreadful. Maybe the technology's improved, maybe the caliber of filmmaker using the technology's improved. Either way, Spielberg's "The Adventures of Tintin" is the movie that really made me understand motion capture's appeal. Now I see what mocap can do. And what it can do is action.
Spielberg does things with virtual cameras and animated characters inside his computerized world that would be impossible to capture in the real one. Some are elaborate: he builds chase sequences and sword fights and battles at sea on an epic scale. Others are ingeniously simple: with a virtual camera he can follow characters through walls, or under moving cars, or zooming in and around an African town in one continuous take. Anything seems possible in this world and Spielberg takes full advantage of the possibilities.
In a way, "Tintin" is the best "Indiana Jones" sequel he's ever made. There are treasure hunts and daring escapes and an air of excitement, both from the characters and the director, that's palpable. One sequence is so spectacular, I literally yelled out "Oh man!" in the movie theater. I couldn't believe what I was seeing. It was that beautiful and that thrilling. And there are two or three other action set pieces that are just as good.
The plot and the characters are, admittedly, not nearly as memorable, but the movie is so feverishly paced you won't notice until it's over. The story comes from the longrunning series of Belgian comic books by the artist Hergé about a crusading adventurer journalist named Tintin (Jamie Bell) and his fearless dog sidekick Snowy (Snowy). In this film, which at one point was subtitled "The Secret of the Unicorn," Tintin purchases a model ship at a flea market which, unbeknownst to him, is desired by all sorts of unsavory characters. The ship is promptly stolen and must be recovered and then a tiny scroll that had been hidden in its mast must be retrieved as well. That scroll, and several others, point to the location of an incredible treasure.
Tintin eventually crosses paths with a drunken sea captain named Haddock, who becomes his other partner in his quest for the scroll. He is played by Andy Serkis, the chameleonic actor who previously motion-captured the performances that gave us Gollum in "The Lord of the Rings," King Kong in Peter Jackson's 2005 remake, and Caesar in this year's "Rise of the Planet of the Apes." His Haddock is another remarkable creation; witty, charming, roguish, and perpetually sauced. Serkis is like the Pixar of mocap; he seemingly can do no wrong. He might be the biggest and best actor in the entire world who everyone loves and no one knows.
Tintin himself isn't much of a protagonist, or a journalist, for that matter — who does this guy work for? Does he ever file a story? — but he's an acceptable everyman foil for Captain Haddock and the rest of the colorful supporting cast, including Simon Pegg and Nick Frost as a pair of bumbling policemen and Daniel Craig as a mysterious man who wants Tintin's ship. Really they're all just there to drive the action. But let's not forget, the movie is called "The Adventures of Tintin," not "The Searing Emotional Drama of Tintin." On that level, the movie is an absolute masterpiece, maybe the first one motion capture has ever produced.
"The Adventures of Tintin" opens today. If you see it, tell us what you think in the comments below or on Facebook and Twitter.